Please note, Organic Sleep Reviews is proudly supported by our readers. The product links you'll find on Organic Sleep Reviews are referrals and if you purchase an item we do make a small compensation at no cost to you. Please see our disclosure page for full details.
The Zenhaven Mattress Review
Many times when we visit doctors and complain of body pain, general body weakness and the likes, the first thing the doctor will suggest is enough sleep. Sleep is incredibly important for one's mental and physical health, lack of it can lead to some health problems like high blood pressure. To get a good sleep, one need to lie on a very comfy mattress, although almost taken for granted, a good and comfy mattress is crucial for a good sleep as it will help it make you fall asleep easily.
Over the years, man has come to realize a good mattress is important for a good sleep which means good well-being of the mind and the body. Efforts has been made in making comfortable mattresses. Gone are the days of sleeping on straw beds, now technology has gone far to develop the likes of latex mattress and memory foam mattress. ZenHaven is one example of latex mattress that is made to provide comfort and good health to its user.
Zenhaven is a handcrafted 100% natural latex mattress layered with wool and cotton to take you to a new height of comfort and sound health. It is made in America by Saatva, a popular online mattress company that is known for its luxurious mattresses.
Comfort and Feel
Zenhaven is 100% natural latex which is actually 'green'. Most companies produce mattress and claim it is green i.e. 100% natural, but Zanhaven stands out as it is actually 100% natural latex. Some might wonder what is so great about a latex mattress? Latex mattresses offer the best of both innerspring and memory foam mattresses. They contour to the body of the sleeper like memory foam, but without trapping them, and they are bouncy enough like an innerspring mattress.
Zenhaven boasts of a uniquely two firmness options, on one side there is a luxury plush side, or you can flip the mattress for a gentle firm feel. Both of the two sides share the same connect core which is constructed from Talalay latex. Zenhaven's Medium Soft side conforms closely for targeted pain and pressure relief, while the Firm side may be suitable for sleepers who don't want close conforming.
The response from customers on the comfort of this mattress is above average as compared to many other latex mattresses.
I rate Zenhaven 4.7 out of 5 under Comfort and Feel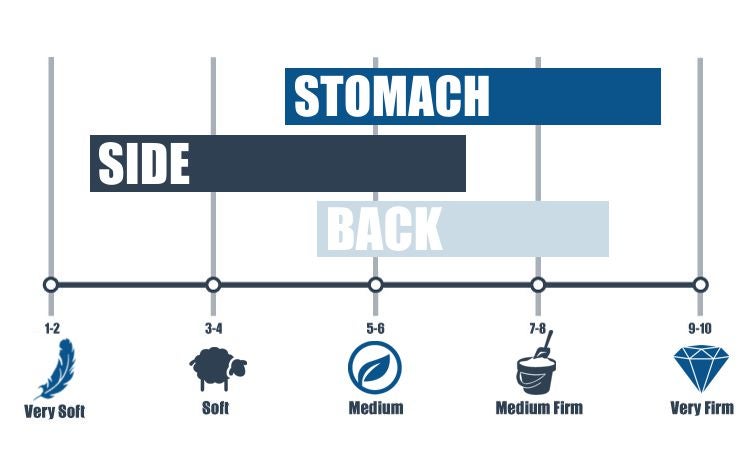 Motion Isolation
Imagine having a sleep partner that turns around often or visits the toilet often at night. Sometimes it can be irritating, right? Latex can isolate movement to a significant extent, which helps to reduce nighttime disturbance for sleep partners or couples when one of them gets up to visit the toilets or changes positions. Zenhaven being a 100% natural latex helps couples to sleep peacefully without disrupting the peace of their partner when they wake up to visit the toilet or shift positions and this makes it a great choice for couples.
I rate the Zenhaven 4.7 out of 5 for Motion Isolation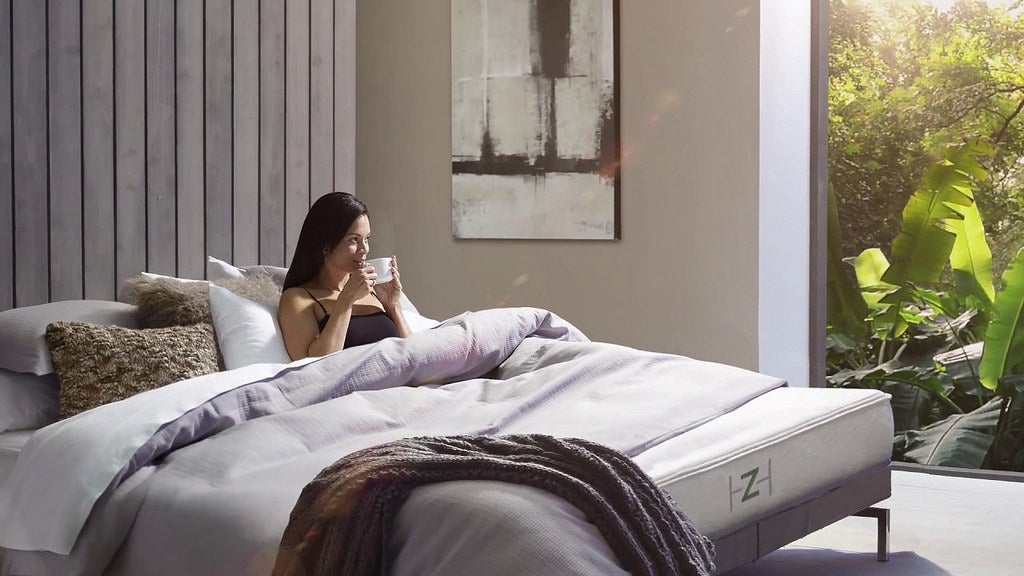 Delivery And Setup
Zenhaven mattresses are not compressed or vacuum-sealed for shipping, but they are wrapped in plastic as a result proper measurement of the doors, hallways and room has to be taken before ordering for the mattress that will fit through so that it won't lead to damage of the mattress when moving it to the bedroom. In case of any mistake or delay in the delivery, you can cancel and will be fully refunded. In any situation whereby there is mix up in the order and you're delivered a wrong mattress, the company will take responsibility of compensating with another one, also donating the initial one to the charity since the seal has been broken.
Shipment of the mattress is restricted within the neighboring U.S and some selected areas in Canada. Those in Alaska can also make an order but their order will be delivered within 12 working days through Lynden transport. Delivery within the states is FREE and they also help to remove old mattress as a complimentary service, but those ordering from Canada will have to pay a delivery fee.
When setting up your new mattress it will need a foundation. One that provides a flat, even surface that will support the weight of the mattress as well as those sleeping on it. It also will need to be the right height for you as well as be aesthetically appealing. The Zenhaven mattress will work great on a box spring with or without a frame, an adjustable base, a platform bed or slatted bed.

Edge Support
This is one aspect many customers have a problem with, unlike other types of mattresses, latex mattresses typically have a little less support and many customers complain of sinkage at the edges. Due to the fact that the mattress has two sides and firmness levels, the support varies. When pressure is applied to both sides of the mattress, the sides sink in farther than the middle of the mattress, therefore the center of the mattress has better support than the edge. The Zenhaven  falls in a little lower on the scale for edge support but it still provides ample edge support for things like getting in and out of bed, tying your shoes at the edge and so on.
I rate the Zenhaven at 4.55 out of 5 for Edge Support
Off Gassing
One thing I noticed about almost all mattresses is that they give off a new product smell when opened new but sometimes the smell is not harmful. Off gassing is the reason why ventilation is required around the house because practically almost all new products have a smell ranging from cars to shoes to even cushions. Depending on the type of mattress, most natural latex mattresses don't off-gas while synthetic mattresses do, but in the case of Zenhaven, minor odors have been reported from users but this vanished within a few days after being un-packaged.
So, if you're the type that cannot stand even the faintest smell of a gas coming from a new product, I recommend adequate ventilation around the house and also you can use a mattress protector to help mask the smell that may slightly linger for the first 2-3 days.
I rated the Zenhaven at 4.65 out of 5 for Off-Gassing
Temperature
Latex, in general, is typically able to breathe well, and this can be largely attributed to the fact that it has an open cell structure that circulates air easily and couples with the fact that Zenhaven is covered with cotton cover, sleeping hot didn't seem to be a problem although Latex can be a heat trap for some sleepers, but most claim it feels cooler and more comfortable than memory foam.
Zenhaven was made in a way it will be able to breathe thanks to the use of the right materials which includes the latex, the wool, and cotton, most customers reported they are having a cool and comfortable sleeping experience.
For it's breathable and thermal regulating abilities I rate the Zenhaven 4.75 out of 5 for Temperature
Materials
One of the primary reason I have chosen to review Zenhaven, along with every other product on this site, is because it utilizes organic, natural,  CertiPUR-US Certified foams or all three. This mattress has both organic cotton and wool and natural latex. If you are not familiar with CertiPUR-US foams now is a good time to get acquainted as you should seek out a mattress with at least one of these materials.
CertiPUR-US® is a certification program administered by a
not-for-profit organization.
CertiPUR-US certified foams are:
✓ Made without ozone depleters
✓ Made without PBDEs, TDCPP or TCEP ("Tris") flame retardants
✓ Made without mercury, lead, and other heavy metals
✓ Made without formaldehyde
✓ Made without phthalates regulated by the Consumer Product Safety Commission
✓ Low VOC (Volatile Organic Compound) emissions for indoor air quality (less than 0.5 parts per million)
It gives yet more peace of mind knowing that not only are you getting a superior product but you are getting a healthy mattress that you can feel good about having in your home or having your kids play on.
At the beginning of my review, I have been mentioning 100% natural latex and I am pretty sure some people might be wondering what is so special about a natural latex mattress. Well, latex, as we all know, is a material gotten from the sap of a rubber tree and possesses elasticity. So technically, it is this elasticity that allows the mattress to conform to the shape of the body. Most latex mattresses are soft but firm, contradictory, right? I thought so too at first until I looked further and realized latex mattresses are soft at first touch, but firms up as your body go deeper giving you full support. This feature makes latex mattress the ideal choice for people with musculoskeletal ailments as it helps to relieve back pain amidst other advantages like good air circulation which provides good sleeping temperature, durability, just to mention a few.
Asides the natural latex, other major materials used in making Zenhaven mattress include 100% organic New Zealand wool and organic cotton. From the description of the materials, you can all understand when talking about a total eco-friendly mattress, Zenhaven stands tall (Although technically, it is not 100% natural).
New Zealand wool is known internationally to be 100% natural and one advantage of using organic wool is the fact that it is chemical free, so fear not if you have an allergy to any chemical because organic wools used to make mattresses are known to be hypo-allergic, and it is also known to resist bacteria, mold, mildew and dust mites which justifies its durability. One of the interesting features I find fascinating about organic wool is its insulation ability. As an insulator it helps to regulate the sleeping temperature in correspondence to the season. When the weather is dry, the wool absorbs the moisture and keeps a layer of dry, insulating air next to the skin. On the other hand, when it is warm, that same absorption capacity takes up perspiration, allowing the body's natural cooling system to work better.
The last material that makes Zenhaven stands out is organic cotton, and we all known when talking about comfort, softness, and smoothness, cotton made materials are at the top. Asides from comfort, organic cotton is also hypo-allergic. This concludes the fact that Zenhaven mattress is safe for use regardless of your allergic problems.
I can't help but give Zenhaven high marks in this category as I am impressed with the high level of organic materials used to produce an eco-friendly product.
Zenhaven gets a 4.75 out of 5 for Materials
Trials and Warranty
When we order a product online using the customers review we see online, sometimes there are key things that matter to us that may or may not concern most people, due to the fact that after ordering the product, we may find ourselves not satisfied with the product and may feel mislead because a key information was left out by the reviewers which we find really important. As a result of this, Zenhaven understands that you are not able to lie on your bed until it is delivered to you, so they offer a 120-day home trial and during that time frame, if you are not satisfied for whatsoever reason, they will come and pick it up and offer a refund excluding the original delivery charge. Also, you don't have to pay for the pickup.
The warranty plan for Zenhaven is of two kinds but the second one is optional, it is called the "Fairness Replacement Option". The first one available to all original buyers is the 20-year warranty. If there is any defect during the first 2 years following the delivery date, the mattress will be changed completely with no charges involved. Beyond the 2 years, the company will be responsible for repairing and re-covering the mattress but, there will be transportation cost of $99 each way. Well, I suppose that is not so encouraging but when you look at the price, it is pretty a small price to pay to have your mattress repaired and delivered back to you.
The "Fairness Replacement Option" as the name implies is optional, in the case of the fairness option, YOU GET TO KEEP YOUR ORIGINAL MATTRESS instead of it being replaced. In the first 3-5 years, another mattress will be delivered to you for 30% of the original price, within 6-10 years, it will be replaced for 50% of the original price you pay and lastly, within 11-20 years, it will be replaced for only 75% of the original price. There no other charges involved but you have to keep the original mattress.
Obviously there are terms and conditions you must adhere to for the warranty. For instance, you have to be the original buyer, the mattress has to be used on an adjustable base, just to mention a few.
For this exceptional Trial and Warranty by Zenhaven I give them 4.68 out of 5 in this category
Popular Reviews
Joe Auer review on Zenhaven mattress
"Personally I get a little upset by all the false advertising around natural products in the mattress market, so I'm glad that Zenhaven has delivered a top quality product at a (relatively) affordable price. I really enjoyed sleeping on the mattress. I really like latex, so a mattress of this quality was a real treat.  If it is in your price range, I would recommend giving it a strong look"
Jessica Jones wrote in her review
"If you're in the market for a natural sleep product but don't have the budget to spend several thousand dollars, I think Zenhaven is well worth taking a look at. Unlike chemical-based foam mattresses, Zenhaven is all-natural and can be a great option for those suffering from allergies and certain skin conditions. If you prefer a foam mattress but want to take advantage of a higher degree of bounce and response as well as better cooling, I think you'll be impressed with what you get in this product. I also appreciate the fact that Zenhaven is a veteran in the online mattress industry, and they are quickly growing in popularity"
Gary M has something to say about their customer service and delivery even though he didn't enjoy the Zenhaven mattress as he hoped
"Got the Zenhaven and found my shoulders sore when side sleeping, didn't seem to have enough pressure relief due to no pillow top also woke up with a sore back. Wasn't sure what else to get, but I got the feeling I'd like to go back to innerspring so they swapped for the mid-firm range saatva coil spring mattress just now, $99 bucks for return or swap but beats being stuck with a $2500 mattress I'm not happy with. Also, the spring mattress is $1000 less so the bonus will see how that goes and write up a review on that page. Saatva as a company and their delivery people were great to deal with every step of the way"
Overall Value and Recommendation
Overlooking its edge support and weight, I don't see why you shouldn't buy Zenhaven mattress. Although there are few reviews that complain of its firmness, I guess they are not aware it has two firmness levels. Latex foams also tend to be firmer than traditional foams. Generally, as compared to other luxurious beds, Zenhaven is really cost-friendly as comparable mattresses costs twice its price. Zenhaven is an ideal choice when looking for a durable mattress that will serve you for years, and with its warranty policy, you can enjoy it for as long as you want and it is also ideal for sex, unlike most latex mattresses which are not responsive enough for sex, Zenhaven has the firm side that is more suitable for couples.
Zenhaven mattress is the type of mattress I will recommend for anyone
That has an allergy to chemicals
Couples that sleep together
Those enjoy sleeping in a bed that conforms to their shape but does not sink in
Those that want a luxury yet affordable mattress
Those that want to use a mattress for a long time
Those that are not sure of the firmness level they want
Zenhaven is one of the few natural mattresses you can get although technically, it is not 100% organic. Talking about eco-friendly and green, Zenhaven is one of the few in the market. I personally recommend this mattress to anybody that wishes to have a good sleeping experience.
Our rating for the Overall Value and Recommendation for the Zenhaven mattress is 4.68 out of 5
Price Table
Twin:
$1299
Twin XL:
$1349
Full:
$1699
Queen:
$1899
King:
$2499
Cal King:
$2499
Zenhaven Guarantee

Free White Glove Delivery/Removal
120 Night Trial Period
20 Year Warranty

Overall Rating:
Comfort and Feel

Motion Reduction

Off Gassing

Temperature

Edge Support

Materials

Trials and Warranty

Average
You May Also Like