Please note, Organic Sleep Reviews is proudly supported by our readers. The product links you'll find on Organic Sleep Reviews are referrals and if you purchase an item we do make a small compensation at no cost to you. Please see our disclosure page for full details.
The IDLE Sleep Hybrid Mattress Review
The Hybrid from IDLE Sleep combines the two of the best materials used in premium bedding: air flow foam and springs. The springs are actually a 6-inch layer of individually pocketed coils, which each react in isolation. This separates the IDLE Sleep Hybrid from traditional spring mattresses that are not typically individually pocketed. The easy movement of the individual coils complements the reflexivity and responsiveness of the double-foam layer on top, creating a solid and comfortable mattress.
The Hybrid also presents convenient solutions for temperature regulation and uses the company's patented IDLE Foam, which is both flexible and resilient. Another unique selling point of the IDLE Hybrid is the fact that it is double-sided. That means that owners essentially get two mattresses for the price of one. This is standard for mattresses in the IDLE Sleep line and it adds to the mattress's overall value considerably.
As always, it's wise to get to know the product before you buy it, so read on to discover if the IDLE Sleep Hybrid mattress is right for you…
Comfort and Feel
While the IDLE Sleep Hybrid is a double-sided mattress that comes in a choice of two firmness options, it's sadly not possible to have a different firmness level on either side. IDLE does have a 12″ dual firmness bed, but this isn't it. The two firmness options are Medium and Luxury Firm, so "soft" is not available for anyone who enjoys sinking into their sleep.
Besides the quilting layer stitched into the cover, the main comfort of this mattress comes from the 2-inch layer of IDLE Cooling Buoyancy Foam. This is a custom blend foam of IDLE's own design that they claim offers 4 times more pressure relief than traditional memory foam. This layer offers sleepers the feel of memory foam even though it's a hybrid. There is also a 1-inch layer of IDLE Air Flow Response Foam. This thin but effective layer adds some bounce and support. It is also aerated to allow for maximum airflow.
This combination offers sleepers the contouring responsiveness of memory foam combined with the bounce and support of coiled springs.
Comfort And Feel Rating: 4.8/5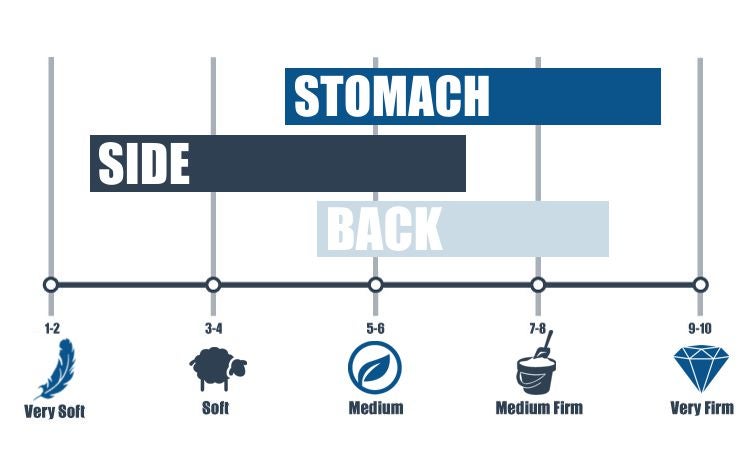 Motion Reduction
If you're considering a hybrid mattress, then it's probably safe to assume that motion reduction isn't your primary concern. Memory foam mattresses provide the best possible motion reduction, but sacrifice bounce and support. Hybrid mattresses don't tend to offer much motion reduction, but do offer improved spring and stability.
The IDLE Sleep Hybrid has admirable motion reduction for a hybrid and won't cause too many issues. Sure, you will notice when someone gets in or out of the bed while you're in it, but this is to be expected. The mattress will at least reduce that sensation so that it isn't too disruptive. As long as you don't intend to use your bed as a trampoline, you shouldn't be troubled by motion disturbance on this mattress.
Motion Reduction Rating: 3.62/5 
Delivery and Set-Up
IDLE ships their mattresses for free within 4-10 business days, depending upon your location. The extra shipping time comes from the mattresses being made-to-order. It takes 2-4 business days to make the mattress before it ships. IDLE will keep you informed of your delivery's progress and notify you of any changes. IDLE mattresses are made by hand in 3 factories across the U.S, so nobody should have to wait too long for delivery. The mattress is simple to set up and while the standard expansion and off-gassing involved with unwrapping any mattress is to be expected here, at least it both will pass quickly as the result of the bed being made-to-order.

Off-Gassing
As with all mattresses, your Hybrid will have a faint 'new mattress smell.' Natural and organic mattresses tend to have more pungent odours, even though people often associate them with less off-gassing. The IDLE Hybrid uses CertiPUR-US certified foams and doesn't suffer from extensive off-gassing. Any scent you pick up from the mattress upon opening is completely harmless and will dissipate quickly. Since the Hybrid is made-to-order, it will not be roll packed for long. So, any off-gassing will be minimal and inoffensive. It will pass within a day or two at most.
Off-Gassing Rating: 4.7/5 
Temperature
IDLE use their own custom Thermocool fabric, which has some rather unique features. The fabric uses smart fiber cross-sections which respond to your body's thermal emissions. In simpler terms, the Thermocool fabric helps you stay cool when you're warm and cools you down when you're too hot. The Hybrid also has a cooling layer of comfort foam, which is designed to let go of heat. A second layer of comfort foam is aerated across its entire surface, meaning there's no weak layer of this mattresses as far as airflow is concerned.
All-foam mattresses struggle to efficiently get rid of heat because of their compacted design, but hybrids manage easily avoid that obstacle due to the open-aired nature of the coil layer. As heat travels down through the foam layers of the mattress, it eventually escapes into the coils where it can dissipate easily. In other words, if you struggle with temperature on the IDLE Sleep Hybrid, it's your fault.
Temperature Rating: 4.75/5 
Edge Support
The Hybrid excels at edge support thanks to its Quantum Edge technology. The edge-to-edge reinforced coils form a structured frame around the outside of the mattress. You'll get full use of the bed without fear of sinkage on the outside. Many hybrids do not reinforce the edges of their coil system, yet hybrids still provide better edge support and stability than pure memory-foam mattresses. The Hybrid doubles down on its edge support with its Quantum Edge design that is 26% more durable than foam models and 24% more malleable as well (further reducing edge-warping over time). So, you will not roll out of this mattress. Don't even worry about it.
Edge Support Rating: 4.83/5 
Materials
IDLE Sleep employs five distinct layers of sleep technology in the Hybrid: one layer of coils (encased on both sides by a layer of IDLE Air Flow Response Foam), one layer of Cooling Buoyancy Foam, and a layer of quilted foam. IDLE Sleep also uses organic and all-natural materials in their beds along with CertiPUR-US certified foams. CertiPUR-US is a certification program administered by a not-for-profit organization.
CertiPUR-US certified foams are:
✓ Made without ozone depleters.
✓ Made without PBDEs, TDCPP, or TCEP ("Tris") flame retardants.
✓ Made without mercury, lead, and other heavy metals.
✓ Made without formaldehyde.
✓ Made without phthalates regulated by the Consumer Product Safety Commission.
✓ Made with low VOC (Volatile Organic Compound) emissions for indoor air quality (less than 0.5 parts per million).
Let's take a look at the materials of the IDLE Sleep Hybrid in-depth:
The cover is a Thermocool fabric that helps you stay cool when you're warm and stay warm when you're cool.
The next layer is 1-inch of IDLE Quilting Foam, which is quilted into the cover to provide a lush and comfortable surface.
Following that is a 1-inch layer of IDLE Air Flow Response Foam, which is completely aerated to to circulate air efficiently.
Then comes the main comfort layer: 2-inches of Cooling Buoyancy Foam. This layer is custom designed to dissipate heat upon contact and provides soft comfort and flexibility.
The middle section is a 6-inch layer of Quantum Edge To Edge Pocketed Coils. This layer provides sturdy support to the latex and foam on top, while supporting the edges of the bed. The coils react individually to isolate movement with optimum motion reduction. From here, the first three layers repeat themselves (which is why this bed can be flipped).
IDLE Sleep claims that their aerated IDLE Foam technology is superior to the 'gel-layers' found in other mattresses. Gel-infused foams are marketed as cooling-layers; however, IDLE stands by their process and see no need for such materials. They play by their own rules.
Materials Rating: 4.73/5 
Trial and Warranty
IDLE Sleep offers a 120-night free trial and they recommend sleeping on the mattress for at least 30 nights before making your decision. If you decide the bed isn't to your liking at any time during the 120-nights, they will refund your payment and donate the mattress to charity. Another vote of confidence comes from IDLE Sleep's LIFETIME warranty. If you find a defect or fault that is the result a manufacturer error, they will repair or replace the mattress.
A trial sleep period is standard with premium mattresses these days, but LIFETIME warranties are a little less common. Clearly, IDLE believes in their product and want to make that clear. Believe.
Trial And Warranty Rating: 4.9/5 
Customer Reviews
Steven in Iowa said:
"An IDLE Hybrid in medium was the 3rd online mattress I tried. Finally this is one I will keep! I didn't hear about IDLE until after trying the other 2 and I'm glad I finally did come across them since I like the idea of a flip mattress. I weigh 220 lbs and I am 6′ 1″ and tend to like a softer mattress. The medium is on the softer side of medium. I understand there is not really a mattress that will solve all of my problems, but I am sleeping much better and find that I have less aches and pains. These really are nice mattresses and I would recommend them to anyone."
Jo and Sam in Wyoming said:
"We took a chance and we love it. We have always had traditional innerspring mattresses but read some reviews about the all foam bed and were convinced to try it out. After all, there is a 120 night sleep trial so why not? I have owned a foam bed before and always slept really hot and would sweat at night. Whatever the foam is they use in this bed must have been made at Hogwarts because it is magical! I never sweat. I feel supported and the overall comfort is just ridiculously satisfying. This is really a wonderful bed."
Troy in Tennessee said:
"I hadn't heard of this brand before, but I love this bed. I have owned a Tempurpedic and Stearns and Foster bed, which are pretty expensive beds. This bed is right up there with that kind of quality, but available for far less. I actually Googled the components of the bed before I bought it and was impressed with how well it is made. I would highly recommend this bed to anyone looking for a quality bed without going bankrupt."
Overall Value and Recommendation
With the queen-size option coming in at $1,499 (before coupons), the IDLE Sleep Hybrid falls in the average price range for a good sized modern hybrid. However, unlike most mattresses out there, the IDLE Sleep Hybrid has two sleeping surfaces and can be flipped to extend its lifespan. This fact alone makes the Hybrid a much smarter investment than most options on the market. The lengthy free trial period and generous warranty also contribute to the Hybrid's excellent value. Overall, the Hybrid comes with high expectations given IDLE's reputation. The array of modern sleep technologies combined with the double sided design makes this a mattress a real competitor in the luxury bedding market.
We recommend this mattress if you:
Want a mattress with excellent temperature control.
Want the option of two sides.
Prefer the extra support provided by hybrid technology.
Desire excellent edge-support.
Need a mattress that will last a long time, perhaps twice as long as competitors.
*Note that prices listed below do not have our coupon applied
Overall Rating: 4.75/5 
Price Table
Twin:
$1099
Twin XL:
$1129
Full:
$1299
Queen:
$1499
King:
$1799
Cal King:
$1799
IDLE Sleep Guarantee

Free Shipping
120 Night Trial Period
LIFETIME Warranty

Overall Rating: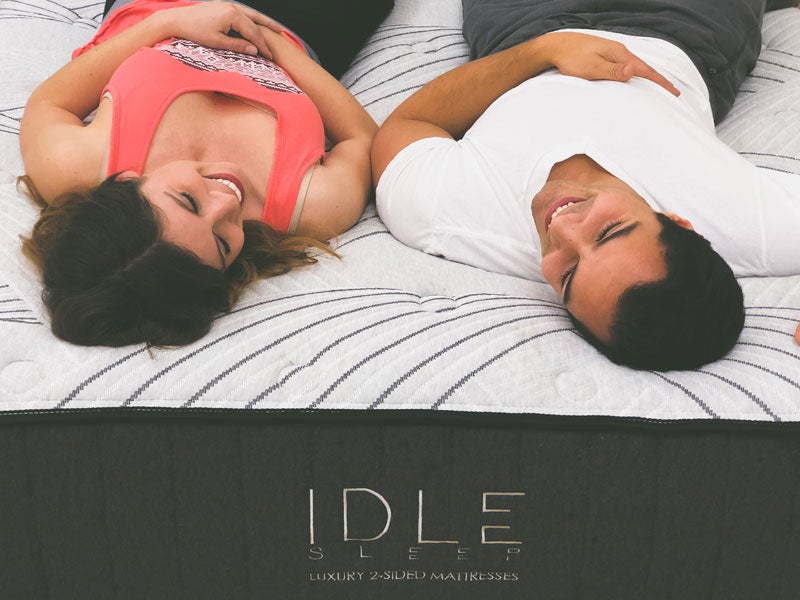 Comfort and Feel

Motion Reduction

Off Gassing

Temperature

Edge Support

Materials

Trials and Warranty

Average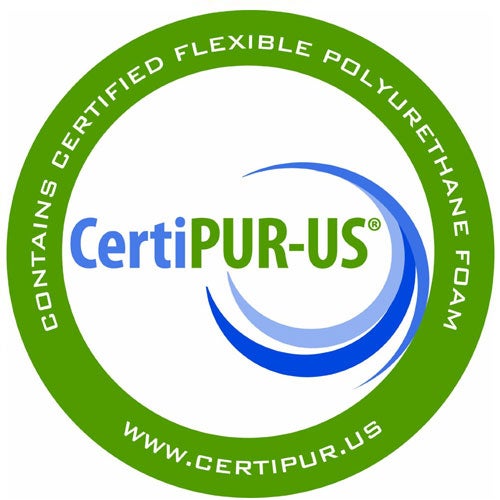 You May Also Like