Please note, Organic Sleep Reviews is proudly supported by our readers. The product links you'll find on Organic Sleep Reviews are referrals and if you purchase an item we do make a small compensation at no cost to you. Please see our disclosure page for full details.
The Nectar Sleep Mattress Review
With society's constant push for more comfort and convenience, the premium mattress market has expanded rapidly in recent years. One of the companies who have come up shining in this time is Nectar Sleep.
Nectar Sleep have shipped thousands of units and hold a huge online presence. Their reputation has been built over time, and now they offer a new installment to their bedding legacy with their new Nectar Sleep Mattress.
The Nectar is an all-foam mattress with three layers of comfort foam and a quilted cover, built for maximum comfort. Two of the foam layers are infused with cooling gel, and seek to fight the usual overheating that occurs with all-foam mattresses.
The mattress is on the soft-to-medium side, and makes for a super-comfy sleep at a super-low cost. With non-allergenic materials, and a guarantee against bedbugs, the Nectar Sleep Mattress comes with some nifty features.
In this review, we will break down the most important aspects of the Nectar, and compare it to competitive mattresses within its market. Splashing out on a luxury mattress is a big deal, so you'd be wise to arm yourself with the foreknowledge required to make an informed choice.
So, read on to find out everything you need to know about the Nectar Sleep Mattress.
Comfort and Feel
The Nectar Sleep comes with an extra layer of memory foam compared to other competing mattresses. Considered a soft-medium, falling at around 5.5 on the firmness scale, the Nectar provides the kind of lushness that makes you want to stay in bed forever.
The Tencel cooling cover is quilted with plush gel-infused memory foam and adds a nice soft, padded feel to the surface of the bed. When you lie down on the mattress you will feel the warm embrace of the quilted cover, before sinking into the memory foam layers underneath.
The Nectar falls right on the line between soft and medium so should be suitable for a fairly wide range of sleepers. It delivers on all the expectations we have of a memory foam mattress when it comes to comfort.
As with all memory-foam mattresses, it will feel softer than spring-beds or hybrids, so be aware of this when making your decision.
We give the Nectar Sleep Mattress 4.75 out of 5 for Comfort and Feel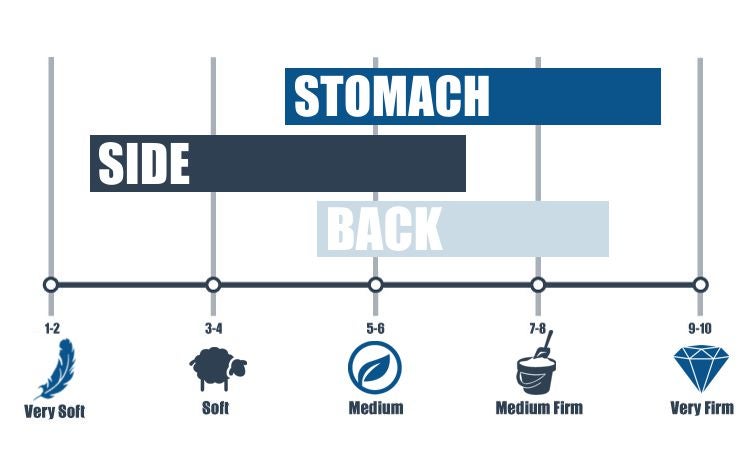 Motion Reduction
For a modern mattress with three layers of memory foam, you'd expect the Nectar to perform well here. Thankfully, it does. Memory foam is well-known to have superior motion isolation properties. It will outshine any other bedding material in this category because due to it's elastic properties that cause it to bounce back to it's original shape.
The sheer softness and responsiveness of the Nectar means that any pressure applied to one part of the surface does not spread to other parts. You can comfortably sit a cup of coffee next to you on the bed and not have to worry about it tipping over. Likewise, it's easy to place a laptop, phone, pens and files on the bed without having them roll towards you as you maneuver on the surface.
For people sharing the bed, any motion disturbance is kept to a minimum, and you should be able to move around easily without disturbing the person next to you.
We give the Nectar Sleep Mattress 4.8 out of 5 for Motion Reduction 
Delivery and Set-Up
Delivery of the Nectar Sleep mattress is FREE, and should take around 3-7 working days to arrive at your door depending on location.
When the mattress arrives, move it into your chosen room before opening. If the bed is wrapped tight, be careful not to damage the fabric when you cut open the packaging. The mattress will expand quickly upon opening and may become harder to move, so make sure you have it where you want it beforehand.
Additionally, Nectar Sleep offers the option of having them set up the mattress for you, with their White Glove delivery service. This does cost a small fee, while for a further small fee they will also dispose of your old mattress for you.
Fast, free delivery is nice. The fee for the White Glove service grates a bit, since other companies offer this for free. However, with the comparatively low starting price of the Nectar Sleep, it probably presents good value for money in the long run.
When setting up your new mattress it will need a foundation. One that provides a flat, even surface that will support the weight of the mattress as well as those sleeping on it. It also will need to be the right height for you as well as be aesthetically appealing. The Nectar mattress will work great on a box spring with or without a frame, an adjustable base, a platform bed or slatted bed.

Off-Gassing
Too much is probably made of off-gassing in general, since any new piece of furniture you bring into your home will have its own slight scent for the first few days. Even a new book has a smell.
Now, mattresses which use organic materials tend to have the most noticeable off-gassing smell, however the Nectar mattress uses certified synthetic materials. Also, beds which stay in their packaging for an extended period will also tend to suffer from off-gassing, simply because of the compacted, sealed nature of the wrappings.
To avoid any problems with off-gassing, open the mattress soon after it arrives, and allow it to air out for 24-36 hours in a well ventilated room. This should match up with the amount of time it takes for the bed to expand so shouldn't be much of an inconvenience for you. If you still pick up smells after this time, extend the airing out process, and then apply your mattress protector and/or sheets. By this time, the smells from the newly manufactured materials should be gone. The Nectar Sleep mattress has very faint smell and shouldn't be bothersome to you. If you do find that it tickles your senses it is best to open the window of the room the mattress is in for better ventilation.
We give the Nectar Sleep Mattress 4.75 out 5 for Off-Gassing
Temperature
Memory-foam mattresses have a reputation for overheating, since the tightly compacted foam has a tendency to hold heat.
The Nectar Sleep mattress combats this by utilizing two layers of gel-infused memory foam which don't hold on to heat, and are aerated at the same time to allow heat to dissipate. In addition to the cooling foam, the bed also has a quilted Tencel cover, which works to wick away heat and sweat, while being breathable enough to allow air to circulate.
Sleeping temperature is a hot topic which can make or break a bed. Due to the subjective nature of judging heat, everyone will experience the bed a little different. Mattress protectors and sheets will alter the situation further, while individual body size will also have an impact on your interpretation of temperature.
For a memory foam bed, the Nectar performs well. With two gel-foam layers and a highly breathable cover, it makes some waves in its attempt to combat overheating.
We give the Nectar Sleep Mattress 4.7 out of 5 for Temperature
Edge Support
The Nectar mattress has a slight leg up on other memory-foam mattresses in that its core foam layer weighs 2.2lb compared to the industry average of 1.8lb. Memory-foam constructions are not known for their edge-support, so the extra density in the foam makes for a little more solidity.
As always with memory-foam beds, sitting directly on the edge will show some sinkage. But this is to be expected and happens even with traditional spring mattresses.
However, the Nectar is plush enough that lying down near the edge will present no serious problems – the memory foam is so contouring that it will comfortably nest you in position, no matter where you are on the bed.
It's good to know that you're getting the entire bed that you paid for, and the Nectar meets expectations in this regard. Memory-foam mattresses do sacrifice edge support in return for softness and comfort, but any high-end bed is constructed for stability, so you don't have to worry about rolling out in the middle of the night.
We give the Nectar Sleep Mattress 4.65 out of 5 for Edge Support
Materials
The Nectar mattress proudly uses CertiPUR-US certified foams in its construction. If you are not familiar with CertiPUR-US certification, it is foams that are made without PBDE flame retardants, ozone depleters, formaldehyde, mercury, lead and other heavy metals or phthalates regulated by the Consumer Product Safety Commission. They are Low VOC (Volatile Organic Compound) emissions for indoor air quality (less than 0.5 parts per million).
The Tencel cover is fully quilted and embroidered with an aloe-vera derived gel-foam. This makes for a soft, fluffy top layer that also has cooling properties. The Tencel material ensures maximum breathability, while the foam quilting sucks heat and moisture away from the surface. This cover also assists in keeping the mattress free of bedbugs – so much so in fact, that the company will replace either the bed or the cover if it gets infested with bedbugs.
The quilting itself is a 1-inch layer of gel foam – a feature which many companies refuse to include due to the expensive, difficult nature of quilting and embroidering this layer.
The next layer is 1-inch of semi-open Lush Foam which is usually reserved for medical uses. This layer is also gel-infused, and absorbs heat and distributes it evenly throughout its surface. Additionally, this Lush Foam recovers rapidly from compression, and quickly returns to its natural state.
The middle core of the bed, and the layer which provides support, is the 3-inches of adaptive Hi Core memory foam. This layer gives contouring and support, and is so dense and heavy that it actually requires higher shipping costs for the manufacturer than most memory-foam mattresses. The Hi Core foam gives the bed some rebound and bounce, and allows the bed to take your shape while still keeping you stable and secure.
The final layer is 6-inches of breathable support foam that is specifically channeled to allow for maximum air circulation from all sides. This is a dense, thick layer that provides a base for the bed, meaning you can sleep on this mattress without a bed-frame.
The Nectar comes with a good selection of high-tech materials, arranged in a smart way. With the manufacturing taking place in China, these materials can be sold by Nectar Sleep at a fraction of the expected price. Overall, the Nectar comes up with the premium goods, and scores well here.
We give the Nectar Sleep Mattress 4.75 out of 5 for materials
Trial and Warranty
Nectar Sleep holds a reputation for pioneering the now common 365-night free trial, and that generous offer applies to this mattress too. It is recommended you give the bed at least 30-nights before making a decision, but if at any time within the first year of your purchase you decide it isn't for you, they'll pick up the mattress and give you a full refund.
Nectar mattresses also come with a Forever Warranty. So if a manufacturer default is found at any point beyond the trial period, Nectar Sleep will either repair the mattress, or furnish you with a free replacement. Additionally, the warranty also includes protection against bedbugs. The Tencel cover is marketed as being bedbug proof, so if you do end up getting bedbugs, Nectar Sleep will replace the cover for free.
Pillows and sheets can be returned after 30 days if they have been opened and used. They can be refunded after 90 days if they have not been opened.
Nectar Sleep shows full confidence in their product by giving a trial period far beyond that of other known-brand manufacturers. Their lifetime warranty is a stamp of approval that should ease the worries of anyone making a purchase.
We give the Nectar Sleep Mattress 5 out of 5 for Trial and Warranty
Customer Reviews
The Nectar Sleep Mattress currently has more than 5700 reviews on the company website, with an average rating of 4.8 out of 5. These are all from verified customers, so let's see what they had to say.
Rylan T. in Georgia says:
"I've been sleeping on the mattress with my fiancée since we had it delivered on April 19th. We can say that after almost two months that this mattress is fantastic. We have it directly on our carpeted floor and cannot feel the floor, even when we jump with our whole bodies and slam onto the bed. We found it slightly softer than our previous mattress (that's just our opinion though). Overall, we are extremely happy with the purchase, so much so that we bought a twin mattress for our daybed downstairs."
Meanwhile, Joanne W. in Indianapolis says:
"We have owned a Nectar Queen in our guest room for about 4 months now. We slept on it for the first 2 weeks just to check it out and vowed to replace our King this fall. Every family member who has come for a stay (5 so far- 3 males 1 female, 3 singles, 1 couple), has loved it! Easiest mattress purchase we have made in our 4 decades of married life."
Paul H. in New Mexico makes particular mention of the bed's role in easing his backache:
"I've owned the Nectar Mattress for about 8 months now and it's the best purchase I've made for my back' the last few mattresses I've used sleep well for about 5.5-6hrs and then the backache would kick in and I knew it was time to get up. With Nectar, I simply don't want to get up!! I sleep the whole night. I've actually changed my sleeping habits; go to bed earlier to get more rest and wake up rejuvenated. To some this all may sound cliché and I think it does to me also, but I honestly have to say that this mattress has made a difference in the way I sleep and wake each morning. Best of all, they have a 365 day guarantee, if you don't like it, return it."
With a high volume of reviews, and a huge average score, the Nectar Sleep currently holds a tremendous online presence and is one of the best-reviewed beds out there.
Overall Value and Recommendation
The Nectar Sleep mattress is one of the most popular mattresses online and due to its quality to cost ratio, it appeals to and satisfies a wide variety of sleepers.
If the incredibly low price wasn't already enough, Nectar also offer the option to pay for the mattress with financing, over a period of 6-months. This service does not require a credit check, but it will require a valid credit or debit card.
Ultimately, the Nectar comes in at one of the lowest prices you'll pay for a luxury mattress. It comes with a full one year free trial period, and a warranty that literally lasts a lifetime. With this in mind, it's very hard to complain about the value the Nectar represents.
We recommend this mattress if you:
Enjoy the softness of memory foam.
Want a plush surface to sink into.
Require excellent motion reduction.
Want a luxury mattress at half the typical market price.
Want extra protection from bedbugs.
Are a side or combination sleeper.
Overall, this is a great mattress that has sold wildly and has given the company its exceptional reputation. The Nectar Sleep lives up to that reputation.
*Note that prices listed below do NOT have our coupon applied
For the obvious attributes of the Nectar Sleep mattress we give them an Overall Value and Recommendation rating of 4.83 out of 5 
Price Table
Twin:
$524
Twin XL:
$594
Full:
$724
Queen:
$824
King:
$924
Cal King:
$924
Nectar Sleep Guarantee

Free Shipping
365 Night Trial Period
Forever Warranty

Overall Rating: