Please note, Organic Sleep Reviews is proudly supported by our readers. The product links you'll find on Organic Sleep Reviews are referrals and if you purchase an item we do make a small compensation at no cost to you. Please see our disclosure page for full details.
The Brentwood Home Cedar Mattress Review
The Brentwood Home Cedar Mattress is billed as the best natural mattress available, so obviously we had to find out if it lives up to the hype. We scoured the internet to find all of the best reviews (and a few of the worst) to provide you with some good ol' honest feedback.
If you are shopping for a new mattress and are thinking of going all natural, then this is a top choice that won't let you down. The Brentwood's natural and eco-friendly material is made out of natural Latex and organic Cotton.  With a reasonable price tag and a reputation for quality hand craftsmanship, this mattress is practically guaranteed to satisfy. So, let's take a closer look at the Brentwood Home Cedar Mattress and see what makes it so appealing.
Brentwood Home
Brentwood Home are an LA based mattress manufacturer who pride themselves on being a wholesome company. All of their products fit in well to a soothing home environment and boast strong craftsmanship. They specialize in selling hand-crafted home comforts at affordable prices and thousands of customers have been smitten by their designs.
For the last thirty years, Brentwood Home have crafted specialty homewares for the California area that are made by local artisans from ethically sourced materials. The company began by selling through third parties who would add a hefty markup due to the hand-crafted nature of their goods. Thanks to the internet, you can now buy directly from Brentwood Home and save yourself some cash.
All of their goods are made in California and they will ship to anywhere in the US. We like their ethos of hand crafted excellence, a trait echoed in every mattress that they sell.
Comfort and Feel
This mattress is medium firm, so if you like a soft mattress it might not be for you. Likewise, those who like a solid as stone mattress might find the Cedar a little lacking. This is for the medium and medium firm people out there. They are on track for a great night's sleep on the Brentwood Home Cedar.
The top layers of cotton wool and latex in this mattress are designed to contour and mould to your shape. So regardless of your favoured sleep position, you should have full pressure point relief. This mattress is ideal for back and stomach sleepers because it fills in the areas where more support is needed. It is also good for side sleepers that like to sink in. Customers swear by it.
This bed also has zoned transitional layers that help provide bounce and repel excess sinkage. We found that sitting or lying down did not swallow you whole, but rather provided gentle contouring.
Comfort And Feel Rating: 4.65/5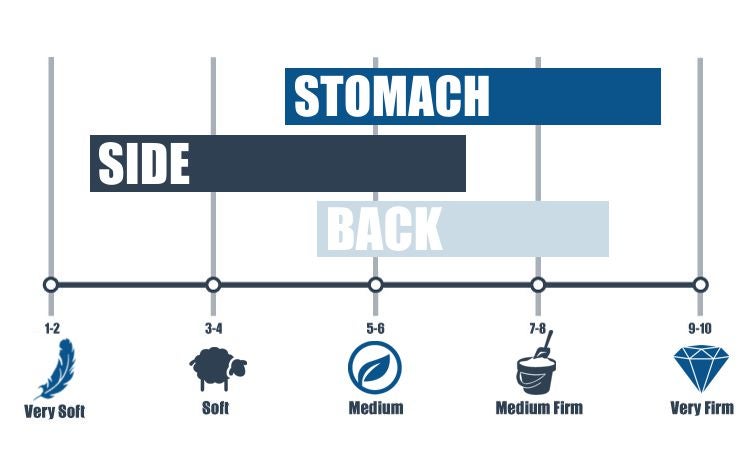 You might like this mattress if you:
Sleep heavily on your stomach or back: The cotton wool provides some depth and spring. So  you won't sink all the way in, just enough to be comfortable.
Need pressure point relief on areas like you hips or shoulders: The micro coils will respond individually to lift where needed.
Have mobility issues: This is a good bed with little sinkage and a middling firmness rating. It is not hard to get into and out of.
Want to invest in a responsibly sourced mattress: This mattress won't leave as big a carbon footprint as some others.
Want memory foam without the sinkage.
You might not like this mattress if you:
Prefer a springy mattress or a full memory foam bed: This one is definitely somewhere in the middle
Want your bed to be particularly hard, or particularly soft: The middle range of firmness on this mattress will never please you.
Are allergic to any of the natural ingredients.
Do not want a 'new mattress' smell.
Motion Reduction
While this mattress provides good bounce response thanks to the coils, it also soaks up much of the motion due to the natural latex and memory foam. The coils help to spread the bounce. The zoned transitional areas on this mattress further help to keep motion transfer down.
The motion reduction on this mattress works so well that you wouldn't even feel your children jumping on the bed next to you (not a problem that comes up ofter, but at least you'll finally be safe when it happens). The wool layer allows for a little soak and can provide bounce if it is condensed. Brentwood Home chose excellent materials that all contribute to an excellent end product.
Motion Reduction Rating: 4.8/5 
Delivery and Set Up
Your Cedar Mattress will be delivered directly to your home (or other specified location) within 6-10 working days. Delivery of this mattress is entirely free and it's delivered through a new technique specifically devised to reduce the carbon emissions we create when we buy or ship a mattress.
The mattress will arrive in a large box and we advise that you take the box to the room you wish the mattress to stay in before you open it. Using a sharp tool, carefully remove the boxing. You should be left with a vacuum-packed mattress that is enclosed in tough plastic. Cut the plastic layer away but take extra care not to damage the fabric of the bed. Once the plastic has been fully removed, your mattress will look a little squashed, but don't worry. The mattress will fully expand within twenty four hours of un-boxing. If you add sheets and a mattress protector, you will be able to sleep on it before it is fully expanded. The Brentwood Home Cedar mattress will work great on a box spring (with or without a frame), an adjustable base, a platform bed, or slatted bed.

Off-Gassing
Off-gassing is a bit of a misleading term. It simply means that there will be a slight smell to this mattress when you buy it, but it's merely that 'new product smell' we all know (comparable to new shoes or the smell of a new car). Natural and organic mattresses tend to have the strongest smell, even through these are usually advertised as scentless. The Brentwood Home Cedar mattress is no exception. So, don't be upset or surprised if there is a smell when you first unpack this mattress. All new mattress smells fade quickly and and should be gone within 24-36 hours of unboxing. Once you add sheets and a mattress protector, the smell will be barely noticeable.
Off-Gassing Rating: 4.65/5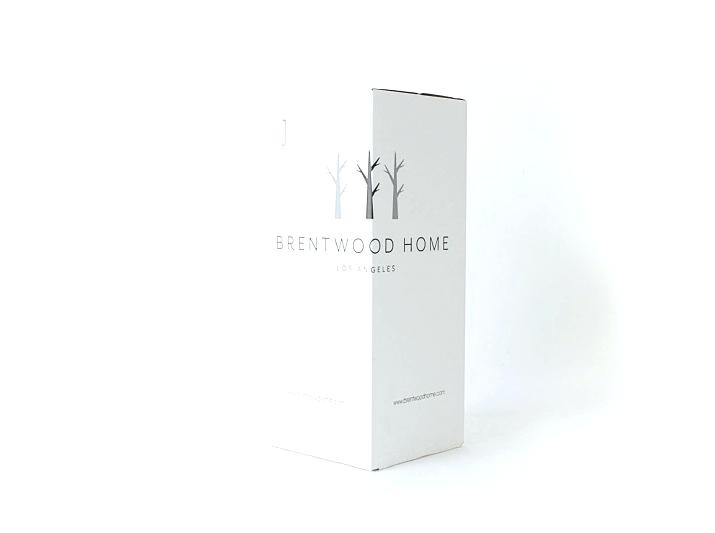 Temperature
The soft layer of wool on the faux pillow top mattress is designed to cool you as you sleep. It will also absorb any sweat from your body, ensuring you have a comfortable night's sleep. Unfortunately this mattress is not specifically designed to accommodate hot sleepers and there are no other in-built cooling layers. The bed does have good air flow though. Better than most hybrids in fact, since the gaps in the layers of the mattress allow for good circulation.
If you are a hot sleeper looking for the mattress that will keep you cool, then sadly this simply isn't it. On the other hand, if you are sick of reading mattress reviews that say, "this bed sleeps cool" then you are in luck. This mattress ought to give you a good night's sleep without requiring extra layers to keep warm.
Temperature Rating: 4.6/5 
Edge Support
The edge support in this mattress is actually quite good. That's surprising because mattresses with memory foam traditionally have terrible edge support. Yet, thanks to the zoned transitional layers in this mattress, the edge support is firm. You can lie along the edge of this bed and never fall off. The coils add that extra bit of support that will allow you to roll around as much as you like without ever waking up on the floor.
Edge Support Rating: 4.7/5 
Materials
One of the primary reason we chose to review the Brentwood Home Cedar (as well as every other product on this site) is because it utilizes organic, natural, and CertiPUR-US Certified foams. This mattress has organic cotton, wool, and natural latex. CertiPUR-US® is a certification program administered by a not-for-profit organization. CertiPUR-US certified foams are:
✓ Made without ozone depleters.
✓ Made without PBDEs, TDCPP or TCEP ("Tris") flame retardants.
✓ Made without mercury, lead, and other heavy metals.
✓ Made without formaldehyde.
✓ Made without phthalates regulated by the Consumer Product Safety Commission.
✓ Made with Low VOC (Volatile Organic Compound) emissions for indoor air quality (less than 0.5 parts per million).
The cover of this mattress is made with a blend of soft cotton and wool. This makes the top layer extra comfortable and it's also a cooling material that will wick sweat away from the body during the night.
Next comes two layers of spongy natural latex. One layer is flat and the other layer is cut into a zig-zag pattern that maximizes bounce. This layer of the mattress is also zoned into different areas to provide extra support (particularly around the edges).
There is an 8 inch thick support layer beneath that. It's job is to provide support from the mattress core outwards. This area is filled with pocketed coils that will individually react to pressure. These coils are wrapped in memory foam to provide maximum comfort and durability.
The base of this mattress is a one inch thick layer of all natural coconut husk. This strong and durable material provides structure to the rest of the mattress and gives the coils stability. Just remember to never turn this mattress, unless you like sleeping on tough coconut husk!
Materials Rating: 4.75/5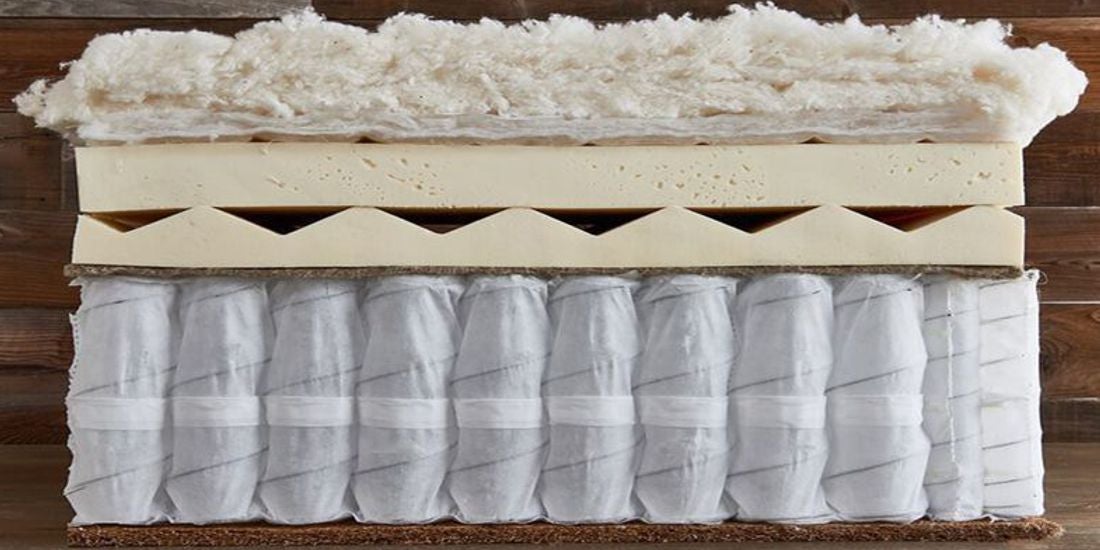 Trial and Warranty
This brand offers a 120 night guarantee. So you can try it out over a couple of seasons to see how you like it before you commit to buy. On top of that, this hand crafted mattress comes with an exceptional 25 year guarantee. So if there are any issues with construction, you can send it away and get a replacement with the minimal of fuss. We're quite happy with the length of the warranty since it more than doubles the standard 10-year guarantee offered with most mattresses.
Trial And Warranty Rating: 4.7/5 
Customer Reviews
Robert F said:
"The mattress is super comfortable. Delivery was quick and the mattress did not take very long to expand. After a few weeks sleeping on it, I'm very happy with the mattress. Love the fact that it's made in USA and out of safe, natural materials"
Michelle D also loved it, saying:
"We had the same mattress for over 15 years. Now we can't remember what the old bed felt like. Sore lower backs and hip pains are gone for us (side sleepers). I love climbing in bed and sinking into the soft support it provides. Would buy it again in a heart beat!"
Kelly-Jo P said:
"Love my mattress! I even managed to unpack it and set it all up by myself. Easy and breezy! And when I had to check in with customer service on tracking my delivery, they were super helpful of replied to me within 24 hours. Great overall experience. My sleep game just got upgraded and I am loving it!"
Overall Value and Recommendation
A Queen Brentwood Home Cedar Mattress will set you back around $1949, which isn't too shabby when you consider the high sustainability and ethical sources of all the materials used in its creation. For example, the cotton wool comes all the way from New Zealand. So obviously these things aren't cheap to make.
We love the edge support and the lack of smell in this natural mattress. We also love the zoned areas in the transitional layers that provide an extra little bit of support. We think this would make a great bed for those who find mobility a challenge.
This mattress isn't a cool sleeper, but it also isn't a hot sleeper and it does an impressive job of accommodating all styles of sleepers with only one firmness setting. Again, if you want a soft bed look elsewhere. However, if you want a comfortable, eco-friendly, and beautifully constructed mattress…well then you just hit the jackpot!
Overall Rating: 4.75/5 
Price Table
Twin:
$1349
Twin XL:
$1449
Full:
$1649
Queen:
$1949
King:
$2395
Cal King:
$2395
Brentwood Home Guarantee

Free Shipping
120 Night Trial Period
25 Year Warranty

Overall Rating: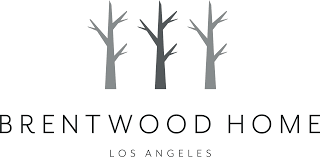 Comfort and Feel

Motion Reduction

Off Gassing

Temperature

Edge Support

Materials

Trials and Warranty

Average
You May Also Like