Please note, Organic Sleep Reviews is proudly supported by our readers. The product links you'll find on Organic Sleep Reviews are referrals and if you purchase an item we do make a small compensation at no cost to you. Please see our disclosure page for full details.
Brooklyn Aurora Mattress Review
Have you ever sat down and wonder why people lose weight when they are lacking sleep? Sleep is a time for serious rest. Sleep lowers a person's metabolic rate and energy consumption. The allostatic load on the body takes a toll, and sleep is a respite. Sleeping is to humans as a reset button is to a smartphone. When you restart your phone, it stops hanging, all the applications will be restarted and everything starts working fine. The same applies to sleep. When you get enough sleep, you can wake up feeling refreshed and stronger, and you get the feeling you can do almost anything. That is a healthy feeling and can be achieved with a very good sleep.
Good sleep requires a comfortable mattress. Waking up several times because of discomfort or disturbance will affect the quality of sleep you will get. You may wake up and feel more tired or even start having body aches. Having a reliable mattress ensures you will be able to sleep comfortably, wake up feeling well rested and ready to face the world.
Brooklyn Bedding may well be the mattress company to help reset and wake up feeling refreshed. They have an outstanding line of high-quality mattresses at fair price point. This is because they own the factory that makes their beds, not something that every online mattress company can boast. We are going to be looking at Brooklyn Bedding's Aurora mattress. It is a hybrid mattress that comes with three firmness options: Soft, Medium and Firm.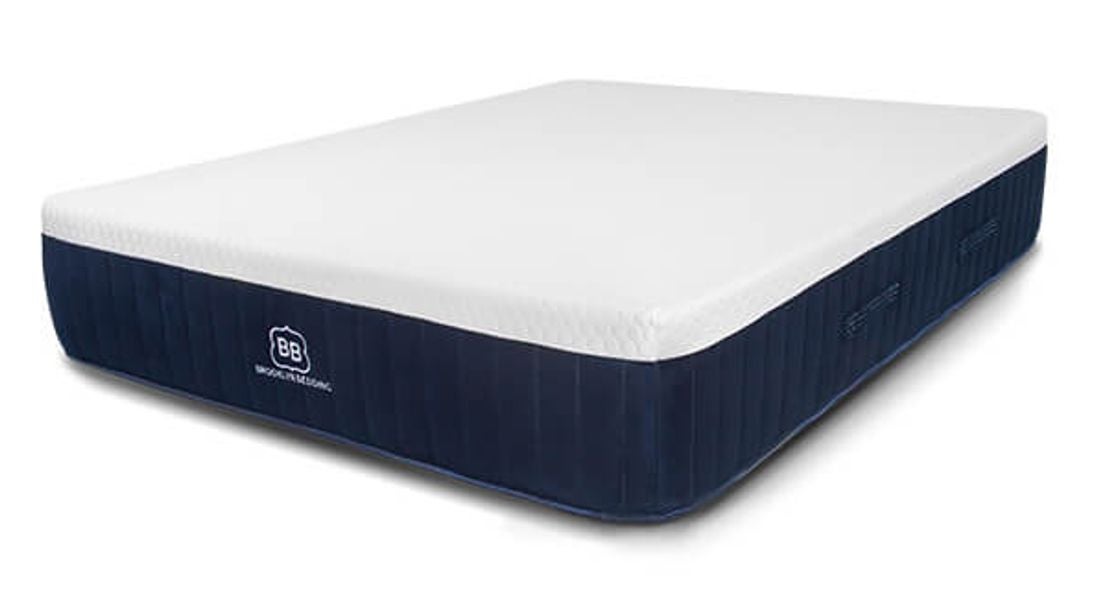 Comfort And Feel
Everyone enjoys an alternative when it comes to choosing something. Customers can choose between soft, medium and firm options. The medium comfort level is the most popular among customers. It provides a luxurious plush feel with a firm support. The medium firmness works for all sleeping position: side, back and stomach.
Depending on your preference and sleeping position, you can choose either the soft, medium or firm option. Side sleepers can choose the soft option as the mattress will contour effectively to the curves of the body, while the firm option is ideal for stomach sleepers. The medium option is still the best option especially for couples that have a different sleeping position, it provides comfort which is not too soft or too firm and also makes you sleep on the mattress rather than in the mattress.
Brooklyn Aurora mattress gave options to customers to choose their preferential firmness level, not many mattresses brands offer that privilege.
I rate Brooklyn Bedding Aurora 4.7 out of 5 for Comfort and Feel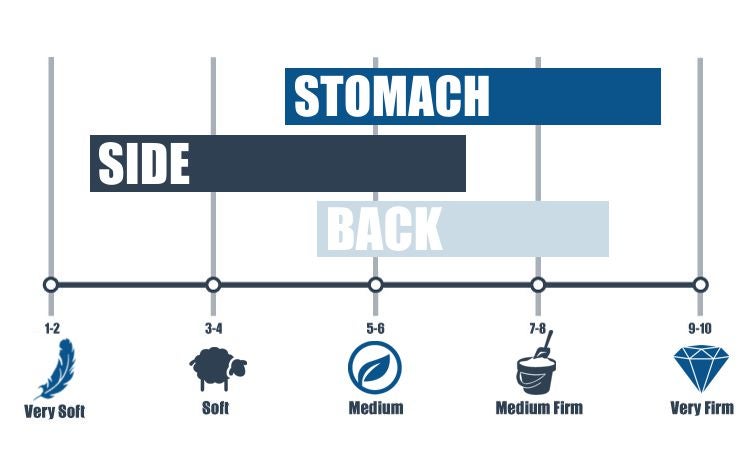 Edge Support
Sleepers that often turn around or have sleeping partners that tend to take up the whole space on the mattress, find themselves at the edge of the mattress and if the mattress doesn't have a good edge support, they may end up slipping down from the mattress to the floor.
The 8″ layer of quantum edge pocketed coils that surround the edge of the mattress gives it a very good edge support. Sleepers using Brooklyn Aurora mattress do not need to worry about slipping down from the mattress when they sleep at the edge. There is good support from the center of the bed to the edges. With it's 3 comfort options and thick, durable construction the Aurora will be suitable for not only all sleeping positions but also body types as well which is a key selling point.
I rate the Brooklyn Aurora 4.75 out of 5 for Edge Support
Motion Isolation
Light sleepers pretty much wake up at the sound of the slightest sound, or at the slightest disturbance. There are those days you really need a good rest and the constant waking up and turning around of your partner might make you want to hate them, it is frustrating sometimes. So pretty much, when buying a new mattress, one of the important and popular features that customers look out for is the motion isolation. Depending on the type of foam used for the mattress, you can conclude for yourself if the mattress has good motion isolation or not.
Latex and polyfoam have a good spring back and quicker bounce-back response and this makes them less appealing for motion isolation than memory foam. However, the TitanFlex foam on the Aurora isn't too bad for motion isolation. The individually pocketed coils help with stability as well. It is still a responsive bed, so it's not perfect for motion isolation but for a hybrid mattress it performs above average.
For Motion Isolation I rate the Brooklyn Bedding Aurora 4.6 out of 5
Temperature
Not everybody likes sleeping hot. Some people find it difficult to sleep during the hot weather especially when the mattress itself is also hot. So, customers tend to appreciate mattresses that can regulate temperature. Brooklyn Aurora uses TitanFlex foam in their material construction, which has latex-like cooling properties and helps defend against sleeping too hot. However the Aurora goes a few steps further by using phase change material in the cover and adding a cooling surface component to the comfort layer. These additions to the construction, as well as the coil layer, provide an added focus on cooling to the Aurora.
Brooklyn Aurora was designed in such a way to keep the sleeper cool at all times. It is one of the keystone features that attract sleepers to the Aurora mattress.
I rate Brooklyn Aurora 4.8 out of 5 for their regulation of Temperature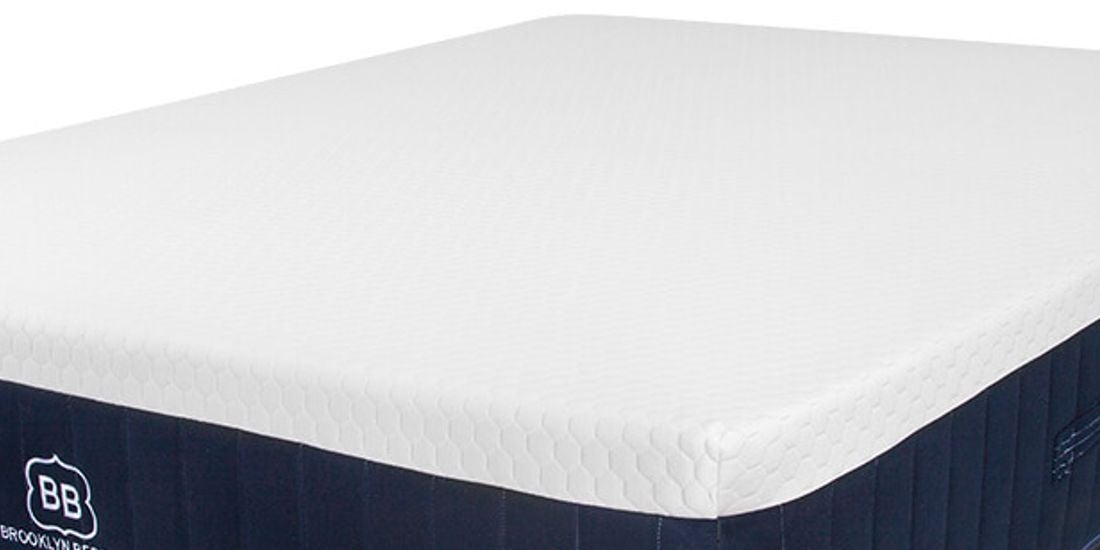 Off Gassing
Off Gassing for me is inevitable as almost all new products have that 'smell'. Natural or Organic mattresses sometimes have the strongest smell, although most people associate them with no smell at all. The truth is no matter what brand you are buying, the smell of a new product will always be there. What makes some brands better than others is how long it takes for the smell to wear off.
The first thing you will do when you get your Aurora mattress is to bring it to the room, where you will open it. You do not want to unroll it in another room to avoid the room having the smell of a new mattress. When you are ready to open your mattress, use the cutter provided, if not use scissors but be very careful not to cut the fabric cover of the mattress.
After cutting, it will open and expand quickly and you will notice the 'brand new mattress smell'. In most cases, the smell will be gone within 12-36 hours or very faint. I always recommend proper ventilation and also use of a mattress protector so once the mattress airs out use a protector and sheets and at that point, you should not experience much smell at all.
Brooklyn Aurora earns a 4.75 out of 5 for their faint smell of Off-Gassing
Delivery And Set Up
The mattress is compressed, sealed and delivered in a box. The delivery of the mattress is available for addresses in the U.S including Alaska, Hawaii, and Canada. The delivery charge for those living in the contiguous 48 states is FREE, but there is a delivery charge for Alaska, Hawaii, and Canada.
After ordering, it takes 1 to 3 days to process the order and it takes another 3 to five days before your bed is delivered to you. After ordering, the tracking number comes after the order has been processed i.e. you won't get your tracking number immediately after ordering. The delivery is done by FedEx Ground and they don't provide removal of your old mattress or setup of the new one. The free delivery is for standard-size mattresses, as the delivery charge may apply for custom orders.
Brooklyn Bedding has this to say about proper frame and center support:
You can ensure your mattress is adequately supported by following these guidelines:
Make sure your mattress is not restricted—basically, there should be sufficient airflow to the mattress.
If you are using a slatted foundation, make sure the slats are fully supported in the middle and are spaced no more than 3 inches apart.
If you purchased semi-flexible slats they will have to be supported with an added non-flexible foundation, or what is called a bunkie board. You can tell if you have adequate support by looking at the slats—if they are bowed in any way they may have too much flex to provide the necessary support.
If you are using a previous box spring from your old mattress, make sure it is not a wire semi-flexible foundation. Stand on the old box spring and observe if it bends. If you see any flex at all we highly recommend you replace your old box spring with a more solid foundation.
If you have an inadequate frame that causes damage or defect to the mattress it may void the warranty due to insufficient support.

Materials
Brooklyn aurora mattress was made using specialized materials with peculiar names that can be confusing and complex at first glance, but if you take your time to understand the functions and role they all play to provide absolute comfort and support to sleepers, you will appreciate the great length Brooklyn went to in making this particular mattress. All of the foams that Brooklyn Bedding use in their beds are CertiPUR-US certified. For anyone that doesn't know what that is here is a brief description for you-
CertiPUR-US® is a certification program administered by a
not-for-profit organization.
CertiPUR-US certified foams are:
✓ Made without ozone depleters
✓ Made without PBDEs, TDCPP or TCEP ("Tris") flame retardants
✓ Made without mercury, lead, and other heavy metals
✓ Made without formaldehyde
✓ Made without phthalates regulated by the Consumer Product Safety Commission
✓ Low VOC (Volatile Organic Compound) emissions for indoor air quality (less than 0.5 parts per million)
It gives yet more peace of mind knowing that not only are you getting a superior product but you are getting a healthy mattress that you can feel good about having in your home or having your kids play on.
Brooklyn Aurora's materials are:
Two-Way Circular Knit (Stretch) Cover
1.5" Medium TitanFlex Foam Layer with TitanCool
2" Medium Firm TitanFlex Layer
1" (Transition) Firm Swirl Visco-Elastic Memory Foam Layer
8' Quantum Edge Pocketed Coils
1" Base Support Foam
The cover used on the mattress is a Two-way circular knit cover, and it has a phase change component which makes the cover feel cool when touched. There have been complaints over time among customers about sleeping hot, especially on memory foam. Rising to the temperature challenge, mattress component makers have introduced series of components that mechanically increase airflow, thus, regulating temperature. Phase change component is one of these components and it helps to regulate temperature in the mattress.
TitanFlex is a hyperelastic material that has a similar feel to latex but it is stronger and more durable. It also has an open cell structure with an addition of TitanCool that helps to regulate the temperature. It helps to relieve stress around the body as it contours to the body of the sleeper, and it quick bounce-back response when pressure is released. According to the company, their foams are safe for people with latex allergies.
Memory foam is a type of foam similar to polyfoam. They are both made from polyurethane. The major difference between memory foam and polyfoam is the visco-elastic property of memory foam. This property makes sleepers sleep in the mattress rather than sleep on the mattress. It is a very good material for motion isolation, as they reduce bouncing on the mattress and has a slower bounce-back response when pressure is released.
Memory foam is ideal foam for sleepers with a joint problem as it cradles sleepers and conforms to the shape of the sleeper. However, it traps heat and that makes it not suitable for customers that are heat sensitive, but Brooklyn was smart enough to use memory foam together with TitanCool and a phase change component, these two materials helps to regulate temperature, as such the heat-trapping effect of the memory foam will not be felt while sleeping on the Brooklyn aurora mattress.
Pocketed coils are generally known to provide support. Normally placed in the support core of a mattress, pocketed coil is good support materials, this material is majorly responsible for providing good edge support for the Brooklyn aurora mattress.
As I mentioned earlier, the names of the materials sound peculiar but I am sure after reading their functions, you will appreciate the effort Brooklyn put into engineering these materials to produce a luxurious mattress, that not only provides comfort but support too.
I rate Brooklyn Aurora's Materials at 4.75 out of 5
Trial And Warranty
"If in doubt, a trial will assure you" is a popular quote among marketers, but the problem most of these products have is, when you have checked out the product and it is not satisfactory, you cannot take it back. That is why many customers prefer to buy a product from companies they are familiar with or companies they have read a good review on. However, thanks to the 120-night sleep trial from Brooklyn Bedding, customers can order the mattress and check it out, and if they do not find it satisfactory they can return the mattress and get their refund. The trial helps customers to test out mattresses without the risk of losing all their money, but one term attached to the Brooklyn Aurora mattress is a mandatory 30-night trial. Customers must use the bed for at least 30 nights before they ask for a refund and return the mattress or exchange it for another one.
After the 30 day trial if customers are not satisfied with the mattress, they can return it and get a refund or exchange it. However, shipping fees and additional charges incurred when ordering the mattress are non-refundable.
Brooklyn offers a 10-year non-prorated warranty. The period of the warranty starts on the day of purchase. Brooklyn will repair or replace mattresses that are defective but not all cases of defective mattress will be covered, there are terms and conditions associated with the warranty. For example, stains, burns, and other types of physical damage that occur due to owner misuse, improper cleaning, or inadequate foundational support will not be covered by the warranty. You must be the original purchaser of the mattress if you want to enjoy the warranty. Brooklyn will not replace or repair a mattress they deem unsanitary.
Before you make a request for warranty coverage, be sure you abide by the terms and condition so as to avoid a case of misunderstanding and unsatisfactory response. There are more gratuitous warranties out there and even  year long warranties but in my opinion it can invite in people looking to exploit such generous programs so I don't really see it as a negative to have a 10-year warranty instead of a 25-year or lifetime warranty. If a bed lasts you 10 years then you have squeezed every penny of your investment from it and should be happy.
I rate the Brooklyn Aurora Trial and Warranty a 4.7 out of 5
Popular Reviews
Ross, a popular reviewer from Real mattress gave a rating of 4.67 in his review
"Brooklyn Bedding owns their factory. I really like that aspect.
Want a triple choice on firmness – Brooklyn Bedding knows one feel is not perfect for everyone so they offer this mattress in a firm, medium and soft.
Like to sleep cool – The Titan Flex or Latex foam will not get excessively hot at all.  Kayla is typically always cold so heat was not an issue for her either.
Are looking for a mattress to fit all sleeping positions – Aurora is offered in 3 firmness's so you are able to pick the firmness that fits your sleeping style"
Katie Golde gave 4.4 in her review and wrote
"I had an overall positive experience reviewing the Aurora mattress. I think it is spot on with breathability and helping to keep you cool at night. I also thought that pairing a firmer layer of TitanFlex foam directly underneath a slightly thinner and softer layer of the TitanFlex foam made the mattress pressure reliving yet supportive and comfortable all night.
There are three comfort levels to choose from: Soft, Medium and Firm. With the 120-night trial, I think it's worth a try if it's in your budget and you like both latex and memory foam beds"
Some anonymous customers review is also quoted below:
"The reason I bought a Brooklyn Aurora was because my $3,000 Tempurpedic was so hot and softer after a few hours that wake me up every-night. With Aurora you can feel a comfortable chilling effect. One tip: I ordered together with a Mattress Protector. I removed it after the first night because, this retain heat"
"This is a quality bed and there are many things I like about it. I got the medium in a Queen. It's easy to get in and out of, great edge support. It's comfortable and supportive for every part of me except my low back. I'm mostly a side sleeper"
Overall Value And Recommendation
Brooklyn Bedding has been around for 23 years. They have a storied history when two brothers began making their own mattress by hand and delivering them in an old Wonder Bread all the way to where they are now as a large manufacturer of high quality bedding. Knowing these two brothers worked their cans off for more than two-decades to create a luxury bedding company should reassure anyone that these guys obviously take great pride in what they do and these mattresses are an extension of them. That in itself gains my trust in their product and workmanship, and they have an A+ rating with the Better Business Bureau to boot. The Brooklyn Aurora is a luxury hybrid that offers 3 different firmness options that sleep cool,  provide exceptional edge support, uses CertiPUR-US certified foams and backs it all up with a 4 month sleep trial and 10-year warranty. I believe that you are getting your money's worth out of this finely crafted bed by Brooklyn Bedding.
*Note that prices listed below do not have our discount applied
For the Overall Value and Recommendation of the Brooklyn Bedding Aurora Mattress I give it a cumulative rating of 4.72 out of 5
Price Table
Twin:
$999
Twin XL:
$1249
Full:
$1549
Queen:
$1699
King:
$2124
Cal King:
$2124
Brooklyn Bedding Guarantee

Free Shipping (Lower 48 States)
120 Night Trial Period
10 Year Warranty

Overall Rating:
Comfort and Feel

Motion Reduction

Off Gassing

Temperature

Edge Support

Materials

Trials and Warranty

Average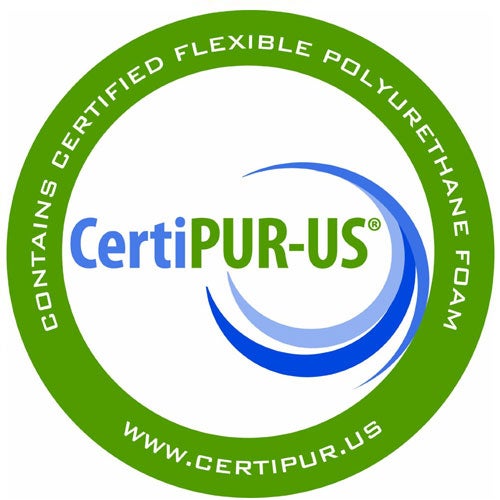 You May Also Like