Please note, Organic Sleep Reviews is proudly supported by our readers. The product links you'll find on Organic Sleep Reviews are referrals and if you purchase an item we do make a small compensation at no cost to you. Please see our disclosure page for full details.
The Puffy Lux Mattress Review
The Puffy Lux advertise their luxury version mattress as comparable to sleeping on a cloud', and critics seem to agree. With a silky soft top layer and loads of inviting, welcoming memory foam, this is one you are sure to sink into… or so they say.
So is the Puffy Lux Mattress quite as comfortable as they make out on their website? There is only one way to find out… and in our attempt to answer that question we scoured the internet to find a plethora of information which we have condensed down into this one readable review – just for you lucky people!
Read on to find out exactly how the Puffy Lux mattress compared alongside its peers.
Puffy Beds
Puffy is an American brand whose original mattress – the Puffy mattress – was voted as best mattress of 2018 – so straight away your attention should be caught. This brand focuses on optimum sleep health, and the original mattress was designed with the aim of keeping sleepers cool and joints soothed as they slept. The Puffy Lux is a step up from the original foam core mattress, and is billed as America's favorite luxury mattress – which it looks like it is set to be!
You can also buy a Puffy foundation or Puffy folding bed frame to match this product, and customer service looks set to be good across the board. This brand has a swift growing reputation for excellence and we look forward to seeing what they do next.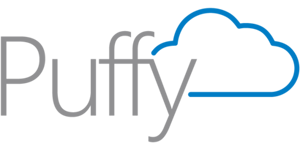 Comfort and Feel
Firstly; their webpage is littered with consumers who are more than happy with their purchase. Many claim to love the way it hugs their body – which sounds brilliant but probably won't suit your average claustrophobic too much.
Secondly this mattress sports a breathable cover and cooling layers of gel foam to make sure that you don't sleep too hot. So if you are a warm sleeper looking for a bed that envelopes you in cloud-like bliss, then this may be the one for you!
This mattress sports three distinct types of foam. There is a plush comfortable foam, a firm core of foam and a layer of extra soft cooling foam – all for you. Consumers seem delighted with it and we won't argue.
The Puffy Lux mattress scores a 5.5-7 on the firmness scale, so if you like a medium to firm mattress that keeps you cool – look no farther. If you want a really super-soft bed then you may have to shop elsewhere.
We gave the Puffy Lux a 4.7 out of 5 for Comfort and Feel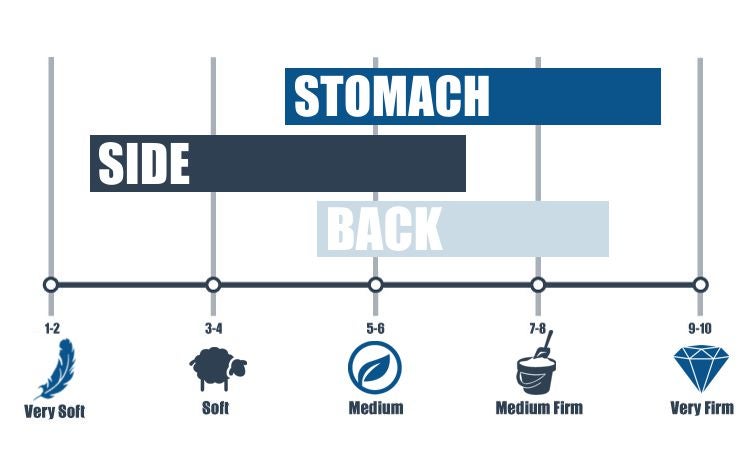 You might like this mattress if you:
Tend to sleep hot and would like a bed that makes you cooler during the night.
Sleep beside a partner that tosses and turns a lot – the high firmness of this mattress will reduce the motion that you sense in the night.
Like to sink in while you sleep.
Don't like bounce in your mattress.
Suffer from pressure point pain in the night, as it has been designed to relieve such aches.
You might not like this mattress if you:
Sleep cool already – the cooling technology in this one might just be too much for you to get a cosy nights sleep.
Are claustrophobic – the hugging sensation this mattress gifts you with is not for everyone, even although we found it great.
Like a really soft mattress – if you like to sink in to soothing clouds of sponge-like foam then this is not the one for you. It might feel like you are
sleeping on a cloud – but you can definitely still feel the mattress under you.
Like a bouncy bed.
Motion reduction
This mattress is a memory foam non-hybrid, so straight off the cuff you know that the motion reduction is going to be better than any compromising beds. If you buy the frame from this company too it has been specifically designed to compliment the motion reduction factors in this mattress, so remember that if you are going to invest.
This mattress will contour to your body, prompting many reviewers to comment on a hug-like feel. This is the same feeling that will protect you from being awoken by movement in the night. Remember – memory foam was created for just such a purpose and is excellent at soaking up any and all vibrations. Though this makes for excellent motion transfer reduction, you do end up with a little less bounce than a spring or hybrid might present. Our rating would have been a little higher but what we were looking for was a mattress that soaks up motion while still having some spring to it, and the Puffy Lux simply lacks a little bounce.
We gave the Puffy Lux mattress a 4.68 out of 5 for Motion Reduction
Delivery and set up
Delivery of the Puffy Lux mattress is free, and should occur within 8-10 working days of when you placed your order. These mattresses are delivered in a revolutionary new way that is designed to eliminate some of the carbon emissions that normal delivery can provide.
The mattress is rolled up tightly and sealed in a vacuum-packed plastic wrapper. The whole thing is boxed and shipped to you so that when it arrives you are presented with a rolled up and tightly bound mattress.
When it arrives, take your mattress into the room of choice before removing it from the box. Once done, you will need something sharp to cut away the plastic… then comes the fun part! Cut away the plastic and get out of the way, because the bed is going to start expanding!
Your new mattress will take up to 36 hours to expand fully – but you will be able to sleep on it before that.
When setting up your new mattress it will need a foundation. One that provides a flat, even surface that will support the weight of the mattress as well as those sleeping on it. It also will need to be the right height for you as well as be aesthetically appealing. The Puffy Pux mattress will work great on a box spring with or without a frame, an adjustable base, a platform bed or slatted bed.

Off-Gassing
Off gassing is a deceptive term, since any new product that you buy is going to smell at least a little like either the shop you bought it from or them manufacturing process. I associate it with a new car or new shoe smell, and try not to worry about it too much.
Normally organic or natural mattresses give off the most smell, even although they are marketed otherwise. This is because of the combination of materials that have been used to make them. A memory foam bed like this one should not smell too badly, but if it does smell then it should fade within the first twenty four hours.
After one full day and with a mattress protector and sheets over the mattress, the smell should either be incredibly faint or gone altogether. If the smell is still there after a full week then you should call your manufacturer in case something has gone wrong.
The Puffy Lux has little to no smell to it so we gave it a 4.7 out of 5 for Off-Gassing
Temperature
This mattress is equipped with the cooling, soothing memory foam that is designed to keep you nice and cold during your dreams. It has a gel infused top layer especially for coolness, and has a super breathable cover. It is also designed with high breathability in mind so that you have air flow all around your body, all night long. If you sleep hot then you should definitely give it a go!
We gave the Puffy Lux mattress a 4.7 out of 5 for Temperature
Edge Support
Consumers have reported good, solid edge support on this mattress. It's combined three layers of thick and supportive memory foam mean that it contours to your body no matter where you lie. The dense base support also allows you to press down and be enveloped at the edges of the bed, as well as in the center, and we loved the soft feel you get while doing it.
The Puffy Lux has great edge support for a full memory foam bed – but without a specially designed and built-in support system we can't justify top marks for this one.
I gave the Puffy Lux an 4.6 out of 5 for Edge Support
Materials
One of the primary reason I have chosen to review the Puffy Lux, along with every other product on this site, is because it utilizes organic, natural,  CertiPUR-US Certified foams or all three. This mattress has CertiPUR-US certified foams. If you are not familiar with CertiPUR-US foams now is a good time to get acquainted as you should seek out a mattress with at least one of these materials.
CertiPUR-US® is a certification program administered by a
not-for-profit organization.
CertiPUR-US certified foams are:
✓ Made without ozone depleters
✓ Made without PBDEs, TDCPP or TCEP ("Tris") flame retardants
✓ Made without mercury, lead, and other heavy metals
✓ Made without formaldehyde
✓ Made without phthalates regulated by the Consumer Product Safety Commission
✓ Low VOC (Volatile Organic Compound) emissions for indoor air quality (less than 0.5 parts per million)
It gives yet more peace of mind knowing that not only are you getting a superior product but you are getting a healthy mattress that you can feel good about having in your home or having your kids play on.
This bed starts with a 7 inch thick layer of super dense memory foam that is designed to make a steady, durable base to the rest of the structure. This is known as the Core Support Foam, and features their patent pending insta-firm technology.
Secondly they have a layer of Plush Cloud Comfort foam – their self-designed formula for foam that is aimed to give cloud-like softness and high breathability to the end product. This layer is supposed to contour and shape into the lines of your body, providing pressure point relief at every available opportunity.
Lastly comes a 3 inch thick layer of Cooling Cloud memory foam. This foam is highly breathable, features cooling gel technology and has been laboratory tested in order to keep you comfortable all night long. It will allow for a cooling sleep upon a super soft top layer for optimum comfort.
We gave the Puffy Lux mattress a 4.65 out of 5 for Materials
Trial and Warranty
This mattress is made in the USA so shouldn't take too long to arrive once delivered. It uses CertiPUR-US certified materials and offers a 101 night free trial. Where we like the trial; we cannot help but feel that other firms offer slightly better free trials than this one does, and have other mattresses in review that go to 120 nights or more. Although realistically, you should have a pretty solid inclination as to whether this mattress will be for you within about 60 days but that is always subject to each persons preference.
We love the warranty. Puffy beds are so confident in their luxury foam mattress that they offer a LIFETIME guarantee for as long as you own the mattress. They will replace it in the event of any damage due to crafting issues for its entire lifetime, and you can't really get a better deal than that.
We gave the Puffy Lux mattress a 4.8 out of 5 for Trial and Warranty
Customer Reviews
The majority of the reviews – that's over two thousand of them – all gave this mattress a five star rating. Some customers have even gone far enough to place videos on the website because they loved it so much. We like that there is an option to review in video format, and hope to see more of this across the board in future.
We also have to give them top marks for putting their own bad reviews on their website. Companies who do this are either supremely confident or very foolish; but since there are only a handful of bad reviews we think it is incredibly brave of them, and scored them an extra point that not all firms get.
Karl B was one such customer, and he accounted for the brilliant customer service he received when buying his Puffy Lux mattress.
"After spending hours looking for mattresses at Sears and the Mattress store, I looked online and found Puffy. Probably one of the best things I did because they were able to hold my order (un)til the date I needed it to be delivered plus my wife and I love it. Couldn't have had a better experience."
Elizabeth H absolutely loved it, and said:
"I was having trouble with my back and wanted a new mattress. My grand-
daughter had gone online and ordered a mattress in a box. I was a little leary at first, but after reading all the material included, I thought I would take a chance. The mattress was easy to set up, not heavy like some of the other mattresses we've had. We weren't charged shipping which was a plus and it arrived within four days. What can I say, I love it! I'm a back sleeper and my husband is a side sleeper. When he moves around at night, I don't even feel the movement; now that is a big plus. With the last mattress, I felt every movement! I don't know how to describe it, it's firm, but soft; it supports the body but you feel like you're cradled not on something hard. Yet, when you leave the bed, it looks flat like nobody has lain there, it's smooth again. My husband can never decide what he likes in a mattress. He wanted it softer, so I added an inch and a half memory foam on top of the mattress. I prefer it without, but it makes him happy, so. I would recommend it to anyone who wants a good night sleep. Believe me at our age we've tried all the mattresses that they make and this is the best."
Not all were so happy however, with one customer (Nicholas L) thinking he had ordered something a little softer…
"This is being returned. This mattress is hard and unsupportive. I've woken up with low back and neck pain daily. At least the returns process has been easy so far so I guess there isn't much risk."
We believe the moral of the story is that you should always check a mattresses firmness rating before you order it.
Overall Value and Recommendation
The Puffy Lux mattress seems (by all accounts) to live up to its standard of affordable luxury for less. With a lifetime warranty included with every purchase there isn't a lot to complain about. Once you buy this mattress and issues with craftsmanship will mean a free replacement – and better yet – any returned mattresses will be forwarded to charity by this firm, who want to ensure that every child has somewhere safe to sleep. So not only do you help yourself when you buy, but you also help children in need… and that's a pretty fine thing.
It's not an expensive buy – but there are cheaper luxury mattresses out there, so we are pretty certain it isn't the most affordable luxury mattress in America, as the adverts claim.
That being said; it is a good price for a luxury mattress and the peace of mind that you get from never having to worry about a replacement again. That lifetime warranty really does make up for any misgivings we might have about investing. It is also worth the investment given that it stands to be the best mattress of 2018!
We think that if you are shopping for a medium to firm mattress that won't make you sleep too hot then this one will be a sound investment. However, if you like your bed soft and warm keep looking! I'm sure we have reviewed the right mattress for you.
*Note that prices for the Puffy Lux listed below are before our discounts are applied
We gave the Puffy Lux a 4.71 out of 5 for Overall Value and Recommendation
Price Table
Twin:
$1445
Twin XL:
$1495
Full:
$1595
Queen:
$1795
King:
$1995
Cal King:
$1995
Puffy Guarantee

Free Shipping
101 Night Trial Period
LIFETIME Warranty

Overall Rating: