Please note, Organic Sleep Reviews is proudly supported by our readers. The product links you'll find on Organic Sleep Reviews are referrals and if you purchase an item we do make a small compensation at no cost to you. Please see our disclosure page for full details.
Tuft & Needle Mattress Review
Sleep is important for the proper functioning of the human body. A comfortable mattress is a prerequisite for a good sleep. Sleeping on a surface where you will be constantly turning and changing positions because of discomfort will give you a bad sleeping experience.
Tuft & Needle was founded in 2012 pretty early into the mania of online mattresses with their sites set on creating a better mattress shopping encounter and offering mattresses at more a more competitive and less inflated cost. Tuft & Needle is still a highly recognized mattress with a loyal customer base because they have maintained lean prices that are substantially lower than the majority of the other popular online brands. They now carry two mattress models- Tuft & Needle mattress and the Mint mattress. They are popular for making foam mattresses that are at a very affordable price, especially their Tuft & Needle mattress model. It is one of the more cost-effective mattresses you will find in the market. So let's take a look at the Tuft & Needle mattress and see what the hype is about!
Comfort and Feel
The mattress has a memory foam-like feel even though it is made from T&N Adaptive Foam, a combination of gel and graphite foams unique to their mattress, which gives the mattress a soft but firm feel. Deeper into the mattress, the T&N Foam used gives the mattress the contouring effect, the mattress contours to the body of the sleeper but has a quicker bounce back effect. The firmness level of the mattress is above medium average, different sleepers rated the firmness level to be above 6.5/10. This mattress was made virtually for all types of sleepers- side, stomach and back sleepers. However, back sleepers will enjoy this mattress more than all other types of sleepers, whether the sleeper is light weight, average weight or heavy weight. Stomach sleepers will do well on this mattress as well.
The mattress offers a soft feel and contours to the body of the sleepers but does not sink in, it provides proper support for sleepers and allows them to sleep on the mattress rather than sleep in it. It offers great pressure relief and "localized bounce" so you won't disturb your sleeping partner.
I rate the Tuft & Needle mattress 4.65 out of 5 for Comfort and Feel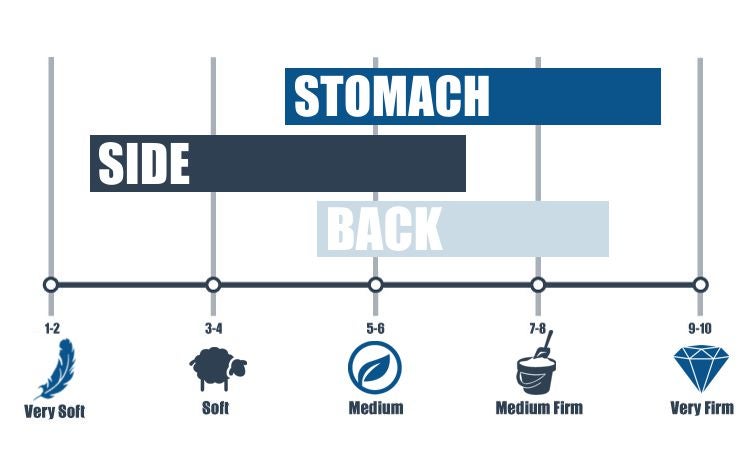 Motion Isolation
Getting a good nights sleep when sharing the mattress with a restless sleep partner can be a cause for concern, especially if you are sleeping on a mattress that has poor motion isolation. Motion isolation is an important feature in a mattress that helps sleepers to sleep through the constant turning and waking up of sleep partners.
Even though the Tuft & Needle mattress is not made with memory foam, it performs excellently in isolating motion on the mattress. Memory foam is known to be the best material in terms of motion isolation, so it is pretty much a big deal when Tuft & Needle made their mattress to be on par with a memory foam mattress even though they did not use memory foam in constructing the mattress. Tuft & Needle does very well on this aspect as it allows sleepers to enjoy their sleep without any disruption or disturbance from their sleeping partners. As stated above, it provides a "localized bounce" so that the disturbance in the mattress is kept to a small area and does not bother the person sleeping next to you.
For their unique Motion Isolation engineering I rate Tuft & Needle mattress 4.65 out of 5
Edge Support
When sitting around on the edge of the mattress and you experience sinkage, it implies that the edge support of the mattress could use some improvement. The edge support of a mattress is not only important when sitting but also comes into play when you are sleeping around the edges of the mattress. This happens more likely when you are sharing the mattress with someone as you will want to use the other side of the mattress so that you won't inconvenience your sleep partner. The entire mattress includes it's edges, so if a mattress has poor edge support, you will try to avoid the edge while sleeping so that you won't roll out of the bed.
Tuft & Needle performs above average when tested with one sleeper for edge support. If you are going to be sleeping with a partner regularly I would be hesitant to recommend this mattress to sleepers that are on the heavier side. While it is well-constructed it is just 10″ thick which typically isn't ideal for a great deal of weight. Foam mattresses are known to perform less than ideally when it comes to edge support, but the Tuft & Needle mattress performs better than most foam mattresses. Although the edge support is not as good as some other mattresses, it is manageable.
I rate tuft & needle mattress 4.5 out of 5 for their Edge Support
Temperature
A mattress that sleeps hot can be very discomforting for some sleepers. That is why the use of breathable material is very important. Tuft & needle mattress relatively sleeps cool. Although there has been report by a few customers that it sleeps hot. The cover used is thin by design, which allows free flow of air in and out of the mattress.
The high-grade T&M Adaptive foam is claimed to be "more advanced than outdated foams such as memory foam which cause you to sink in and feel stuck and causing you to sleep hot. T&N foam sleeps not too hard and not too soft which in turn does not cause you to sink in and offers a cool sleep.
The mattress performed above average when it comes to sleeping cool.
I rate Tuft & Needle at 4.6 out of 5 for Temperature and sleeping cool
Off Gassing
Off gassing is a general thing among all new mattresses. You will hardly find a mattress that doesn't off gas. Depending on the type of materials used in making the mattress, the smell may be faint or pungent and some takes a while before dissipating. The bottom line is most mattresses off gas, but the most important thing is how long it takes before the smell dissipates.
The Tuft & Needle mattress will off-gas like any other mattress. However, the smell is not pungent and the smell dissipates rather quickly. Proper ventilation will quicken the time and the use of a mattress protector will take care of the faint smell that may remain afterwards.
I rate Tuft & Needle mattress 4.65 out of 5 for Off-Gassing
Delivery and Set Up
Tuft & Needle mattresses are compressed, sealed and delivered in a box. Delivery is available to all U.S states (including Alaska and Hawaii). You can expect delivery within 2 to 5 working days, although customers in Hawaii and Alaska should expect theirs in 7 to 10 working days. Orders will be updated after payment has been processed and the mattress has shipped. Customers should reach out to Tuft & Needle if they wish to adjust their delivery details. Tuft & Needle delivers their beds FREE of charge with their being a fee to ship to Hawaii and Alaska, although the exact amount is unclear as their website doesn't make that clear.
Delivery is done by FedEx ground, customized delivery instructions can be sent to Tuft & Needle, who will in turn direct it to FedEx couriers. Signatures are not required, therefore if FedEx delivery personnel delivers the mattress and the customer is not around, the mattress will be left at the doorstep or lobby of their apartment.
When setting up your new mattress it will need a foundation. One that provides a flat, even surface that will support the weight of the mattress as well as those sleeping on it. It also will need to be the right height for you as well as be aesthetically appealing. The Tuft & Needle mattress will work great on a box spring with or without a frame, an adjustable base, a platform bed or slatted bed.

Materials
The materials used by mattress companies in constructing mattresses are not all perfect as they all have flaws. For example, the memory foam retains heat. However, some of these materials can be designed specially to perform better. This is what Tuft & Needle did when constructing their mattress. They constructed Tuft & Needle mattress using their unique T&N Adaptive foam comprised of gel and graphite foams. Tuft & Needle materials are certified compliant with CertiPUR-US, Standard 100 by OEKO-TEX and GREENGUARD Gold.
The cover of the mattress is a stretchy polyester/tactel blend. It is thin by design, which allows air to flow through the mattress to help with temperature regulation. As a material, tactel dries a lot quicker than cotton does, so this will further aid in temperature regulation for the mattress. It is normally used as a substitute for cotton. This material helps in regulating the temperature of the mattress and it has a soft feel.
In the comfort layer of the mattress, there is 3 inches of Tuft & Needle's proprietary Adaptive foam, a graphite and gel foam, a poly-foam with a 2.9 lb density. This layer of the mattress provides pressure relief and generates the overall feel you will have while lying on the Tuft & Needle. The foam in this layer responds pretty quickly to pressure, providing good bounce to the mattress, and ensuring you won't feel stuck while lying down. Poly-foam is a major material used by a lot of companies, ordinarily it is similar to memory foam but does not have the viscoelastic property that memory foam possesses which allows sleepers to sink in, and therefore a poly-foam is a bit more firm and has a quicker bounce-back when releasing pressure. However, the proprietary poly-foam used by Tuft & Needle is almost memory-foam like i.e. it also has visco-elastic properties, although not as good as memory foam. Poly-foam is more resilient and has the ability to efficiently and effectively support the heavier parts of the body when sleeping- the shoulder and hips. This makes it usable in terms of providing comfort and support at the same time.
There are three standards of poly-foam and they are gauged in terms of durability. Some important things to take note of these types of poly-foam is the fact that;
The lower grade poly-foam has a lower bounce back and durability;
Softness or firmness does not indicate quality, actually, this might be confusing as ordinarily when we see a mattress that is very soft or firm, we assume it is of high quality, but in case of poly-foam, it does not; and
The density of each poly-foam layer indicates how durable it can be.
The type of poly-foam that was used in making the innerspring mattress is the high density (HD) poly-foam, it has a density of 2.9. The two other types of poly-foam are the conventional poly-foam and high resilience poly-foam. It is usually hard to make soft foam in layers with densities higher than high density foam, which is why HD poly-foam is commonly used in the comfort layer. The advantage of HD poly-foam include durability and low cost. Which is why, tuft & needle mattress is an economically priced mattress compared to other mattress of its caliber.
Immediately below the comfort layer is the support layer, consisting of 7 inches of poly foam with a density of 1.8 lbs. This is the foundation support of the mattress, lending durability and shape to the structure. This is a similar material with the one used in the comfort layer, the only difference is the density.
Tuft & Needle were able to design and build an impressive mattress even despite having only used one type of material both in the comfort and support layer.
I rate Tuft & Needle at 4.6 out of 5 for Materials used
Trial and Warranty Period
Trial period for customers is an opportunity to try out a product without the fear of losing their money in the process. Customers feel more at ease when they can return the product they purchase if it is not to their liking. Tuft & Needle offers a 100-night sleep trial, so a customer can return the mattress at any point during this trial period regardless of the number of days he/she has used the mattress. This trial period is also available for customers that purchased their Tuft & Needle mattress from huckberry.com. Customers that purchased their mattress from amazon.com will have to coordinate with amazon.com to return their mattress.
You can return the mattress during this trial period if you are not satisfied with the mattress, and you will receive a full refund. However, customers in Hawaii and Alaska will not be refunded back their shipping fee. Tuft & Needle will be responsible for all handling and transportation of the mattress or the mattress may be donated to charity. Customers must use the mattress in the U.S, any mattress that is used outside U.S will not be eligible for the trial period.
Tuft & Needle offers a 10-year non-prorated warranty period. The warranty period starts from the day of the mattress purchase. The company will replace or repair any defective mattress during this period. Customers will be required to submit a written description of the problem and proof of original purchase when filing a warranty claim. Customers that fail to comply will not benefit from the warranty. For customers to benefit from the warranty coverage of the Tuft & Needle mattress, they must abide by the terms and condition of the company. The warranty will not cover the following:
Indentations or sagging in the sleep surface that measure less than 3/4″ deep; this is considered normal wear and tear.
Tears, stains, burns, discolorations, and other types of damage that do not occur during the manufacturing or shipping processes.
Dampness or mold.
Repairs or replacements that are requested due to a change in the owner's sleep preferences.
Individual or personalized allergies and other sensitivities.
Naturally occurring mattress smells, including off-gassing.
Damages or changes that occur due to 'ordinary, intended maintenance and uses', or reclining and sleeping.
The warranty is exclusively available to only original customers who purchased their mattress directly from Tuft & Needle, amazon.com or huckberry.com.
I rate the Tuft & Needle Trial and Warranty 4.55 out of 5
Popular Review
Jon Auer wrote in his review
'I think at this price point, there isn't a better mattress than Tuft and Needle.  Rating the Tuft And Needle mattress becomes easier to do once you consider the price point of the mattress compared to other alternatives.  If you're willing to spend more, then there are better options.  BUT if you're at the lower end of the mattress budget spectrum, then knowing what else is out there, I think it's a no brainer.
I also really like the company and how they are so transparent, so you should feel good about supporting an honest company (especially compared to the traditional mattress brands).  I hope you have enjoyed my Tuft & Needle mattress review'
Jessica Jones of a popular mattress review blog 'The Sleep Judge' wrote in her review and gave a rating of 8.4 out of 10.
'I think Tuft & Needle is a great consideration for sleep partners, especially if they have varying preferences and are looking for a product designed for the average person. Tuft & Needle offers a 100-night sleep trial and a 10-year warranty. If you're not happy with yours for any reason during the first 100 nights, you can return it for a full refund, but 95% of their customers choose to keep theirs. Their foams maintain various certifications including GreenGuard Gold,CertiPUR-US, and OEKO-TEX®, so it's safe for anyone to use including those with allergies and young children'
Overall Value and Recommendation
The Tuft & Needle mattress is an ideal mattress for any customer looking for a quality mattress at an affordable price. One of the strengths of this mattress is its excellent cost to quality ratio. Most mattresses that are of high quality are known to be expensive, but this particular mattress even though it is good quality, the price is well-within the affordable range. The mattress is an ideal bed that is suitable for more than one sleeping position and the trial period has no restrictions. Although the mattress is not made for heavy sleepers and it does not have the greatest edge support, it still supports sleepers at the edge regardless. It is also not very good for sex as the mattress does not have good bounce back response you would get from an innerspring or latex bed. It is very durable as it is built to last. It  is eco-friendly, the foams used are all Certi-PUR-US certified (meaning no harmful or toxic chemical was used in making the mattress) and carries two more certifications from Standard 100 by OEKO-TEX and GREENGUARD Gold which simply put, ensures that a product has met some of the world's most rigorous and comprehensive standards for low emissions of volatile organic compounds (VOCs) into indoor air. Another diamond in the Tuft & Needle crown!
*Note, prices below are subject to change and are not including any eligible discounts
I rate Tuft & Needle a solid 4.6 out of 5 for Overall Value and Recommendation
Price Table
Twin:
$350
Twin XL:
$395
Full:
$495
Queen:
$595
King:
$750
Cal King:
$750
Tuft & Needle Guarantee

Free Shipping (Lower 48 States)
100 Night Trial Period
10 Year Warranty

Overall Rating:
Comfort and Feel

Motion Reduction

Off Gassing

Temperature

Edge Support

Materials

Trials and Warranty

Average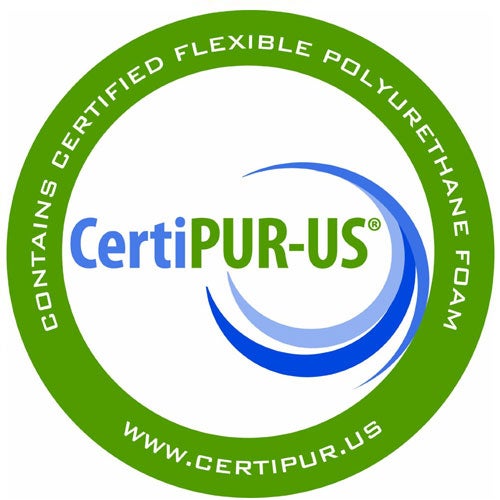 You May Also Like