Please note, Organic Sleep Reviews is proudly supported by our readers. The product links you'll find on Organic Sleep Reviews are referrals and if you purchase an item we do make a small compensation at no cost to you. Please see our disclosure page for full details.
The Saatva Mattress Review
Saatva was founded in 2011 and is now one of the countries largest online-only mattress companies. The founders chose to base the name off of the Sanskrit word sattva which means pure. The Saatva mattress is an immensely popular online mattress which smashes the competition in terms of price. The mattress also utilizes some unique materials in its construction, and its coil-on-coil system is a feature not usually seen in the online premium mattress market.
The Saatva uses both foam and coil technologies, and aims for the biggest market of sleepers by building their mattress with 3 different firmness options.
Is the Saatva the mattress for you? To find out, read on, and take advantage of our in-depth review which breaks down everything you need to know about the Saatva mattress.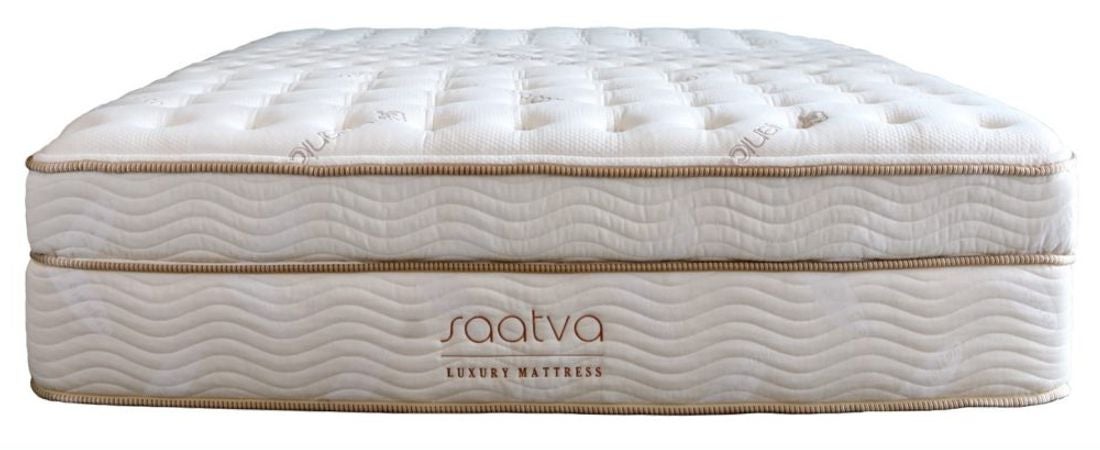 Comfort and Feel
Saatva has created a luxury bed with 3 firmness options and 2 thicknesses for you to choose from- 14 1/2″ and 11 1/2″. The 11 1/2″ model is recommended for and adjustable base while Saatva says that it has the same quality and feel of the 14 1/2″. The comfort levels range all the way from 3 (plush soft) to 8 (firm). Saatva notes on their site that if your comfort level is a 1-2 or 9-10 than they are not the right mattress source for you.
The 3 comfort levels include:
Plush Soft: This feel is recommended for those sleepers who like their mattress soft and to hug them in a supportive way. It is for sleepers who sleep on their side and sometimes their back and have issues with their arms falling asleep before they do. The plush soft option falls at about a 4/10 on the firmness scale with 10 being about as hard as a table top.
Luxury Firm: This option is Saatva's flagship comfort level and is the standard comfort level used by the worlds finest hotels to ensure that each and everyone of their guests gets the best sleep possible. The luxury firm offers the perfect balance of contouring support and a cushion firm. This mattress will work great for combo sleepers (side, back or stomach), couples that have different different sleep needs and for those who switch sleeping positions often throughout the night. The firmness rating for luxury firm is about a 6/10.
Firm: This comfort option is recommended for sleepers who like their bed firm but not hard. It will work best for those who prefer to sleep on their back or stomach, prefer a mattress that you sleep "on" and not "in", or your healthcare professional has recommended a firm mattress. The firm option rates about an 8/10.
For this review, we have chosen the the 14 1/2″ plush soft option.
The first thing you feel when lying on the bed is the padded, quilted cover, which gives a very soft cushioning effect. This bed may have two layers of springs, but the generously quilted cover combined with the memory-foam layer gives it a luxury, plush feel. A quilted mattress protector would emphasize the plushness further.
After sinking into the top few inches of the mattress, you'll feel the subtle, hidden support of the pocketed coils. The coils are so flexible, and more importantly, individually responsive, that you'll probably forget you're lying on a spring bed.
The dedicated foam frame which provides the bed's edge support also comes into play, giving a very secure feel around the sides, while still being soft and malleable.
While softer mattresses tend to be better for side-sleepers, the targeted patch of memory-foam in the center of the bed allows for excellent side support. Back and front sleepers may prefer the Saatva more, but side-sleepers will still feel catered for by this mattress.
As always, interpretations of soft/firm will differ between people. Your measure of this bed's comfort will depend on weight, size, body-shape etc. Use the free trial period to see how you respond to it before you buy.
We give the Saatva Plush Soft mattress 4.7 out of 5 for Comfort and Feel
Motion Reduction
While all-foam mattresses tend to have the best motion reduction abilities, this hybrid from Saatva still manages to hold its own. This is mainly thanks to the thick, lush quilted cover, which behaves like a memory-foam layer on its own, in addition to the memory-foam layer underneath.
Additionally, the individually pocketed coils give more motion isolation than typical inner-spring mattresses, due to their ability to move and react individually, or in unison when need be.
Yes, the individually pocketed coils are resting on an inner-spring layer, but there is enough responsiveness in the coils to allow for motion isolation, while still providing solid support.
While you could easily sit a wine-glass on a memory-foam mattress without it falling, you probably won't want to do that with the Saatva. The spring base, while subtle in its effects, does still provide the kind of bounce you'd expect of a spring-bed. If motion isolation is your must-have feature, perhaps you should be looking at memory-foam mattresses.
With that said, the Saatva still does fairly well when it comes to isolating motion. It's definitely not its strongest point, and you will feel someone getting in or out of the bed at night. However the motion disturbance isn't a deal breaker by any means.
We give the Saatva Plush Soft mattress a 4.5 out of 5 for Motion Reduction
Delivery and Set Up
Delivery of the Saatva mattress is FREE, and you can expect the mattress in around 5-10 days depending on your location. The Saatva does not come rolled up and packed in a box like other models. If the mattress is too big or cumbersome for you to maneuver, you can take advantage of the company's free White Glove delivery service. This means the delivery persons will bring the mattress into your home, unpack it and set it up for you. If you desire, they will also remove your old mattress for you.
These options give the Saatva a hassle-free set-up, and will basically leave you with nothing to worry about. The fact that the bed isn't pre-wrapped and rolled up tightly in a box means you'll have less trouble with off-gassing too, further reducing your overall set-up time.
If you do choose to set it up yourself, just be careful unwrapping the packaging, and be sure not to damage the bed in any way that would affect your free trial period or warranty.
When setting up your new mattress it will need a foundation. One that provides a flat, even surface that will support the weight of the mattress as well as those sleeping on it. It also will need to be the right height for you as well as be aesthetically appealing. The Saatva mattress will work great on a box spring with or without a frame, a platform bed, slatted bed or adjustable base. The Saatva 11.5″ model is recommended for the adjustable base.

Off-Gassing
Since the Saatva comes already expanded, it presents no real problems as far as off-gassing goes.
Off-gassing is a term used to describe the 'new bed smell' which comes with any new mattress. This smell is normal of any newly manufactured material, and you still may smell the new fabrics of the Saatva.
However, the majority of off-gassing occurs due to the vacuum-packed, tight wrappings of rolled and packed mattresses. Beds-in-a-box, as they are known, present the most off-gassing issues, but thankfully the Saatva avoids this problem.
If you still detect a 'new bed smell', just do what's usually recommended of typical boxed mattresses, and leave the mattress standing free in a well-ventilated room for around 24-36 hours. By this time, any smell from the fabrics should be dissipated and completely gone.
We give Saatva a 4.9 out of 5 for Off-Gassing
Temperature
The organic cotton fabric which makes up the cover of the mattress is breathable and anti-bacterial. The microbial treatment added by the manufacturer stops the build up of microbial organisms, which when combined with a hot, sweaty sleeping environment, will cause your mattress to deteriorate over time.
While the materials used in the Saatva are certified and breathable, the Saatva doesn't offer the dedicated temperature control of other mattresses.
One advantage the Saatva does have, though, is the open nature of the coils. Since there are two coil layers stacked on top of each other, there is a LOT of room for hot air to circulate and dissipate. Here, the Saatva avoids the problem of heat build-up encountered by typical foam mattresses.
Saatva mattress rates 4.75 out of 5 for Temperature
Edge Support
The Saatva is technically a hybrid, given its use of both coil and foam technologies. Hybrids always have an edge over the competition when it comes to edge support, due to the strong, rigid nature of the springs.
The Saatva goes even further in its quest for edge-support, by including a dedicated foam edge encasement. What we have with the Saatva is a triple layer of edge-support, with two layers of coils plus the foam.
A good rating for edge support is worth more than a good rating for other features. This is because poor edge support will basically reduce the amount of bed you're getting. By reinforcing its edges, the Saatva gives you the maximum bed for your buck. This is one area where the Saatva excels.
We rate Saatva 4.8 out of 5 for their Edge Support
Materials
The Saatva company has used all eco-friendly materials in this mattress which makes it an even more amazing deal. They use organic cotton for their outer cover, their inner springs are constructed from recycled steel, they use Guardin which is their exclusive botanical antimicrobial fabric treatment that inhibits bacteria to prolong the life of the organic cotton and finally, the memory foam layer is CertiPUR-US certifed. This means that the foam is made without ozone depleters, formaldehyde, phthalates regulated by the Consumer Product Safety Commission, without using lead, mercury or other heavy metals, PBDEs, TDCPP or TCEP flame retardants and made with Low VOC (Volatile Organic Compound) emissions for indoor air quality (less than 0.5 parts per million).
Saatva offers two versions of the mattress – one at 14.5" in height, the other at 11.5". The only difference between the two is the height of the lower coil base. The Slim version is made for adjustable beds, but besides that there are no differences between the two.
So let's take a look at what's under the cover.
The cover itself is made from 100% organic cotton fabric, which is treated with Saatva's patented Guardin technology to make an antimicrobial surface. This stops bacteria build up and will extend the lifespan and aesthetic of the cover.
The cover is also made in a 'euro pillow' style – this means the cover is padded and quilted with a 1.25" foam layer, giving the surface a plush, comfortable feel.
The next layer is a targeted section of memory-foam which is positioned in the center area of the mattress. This is to provide extra lumbar support in the area of the bed where you need it most.
Next we come to Saatva's first layer of coils. These comfort coils are individually wrapped, allowing them to respond individually to whichever area of the bed is receiving the most pressure. The coils contour and respond to every body shape. The queen-size model contains 884 pocketed coils, with a 4" height.
The coil-on-coil construction of the Saatva means the next layer is a 7" high bed of 416 coils. These springs are hourglass shaped to prevent sagging and provide extra durability. Given the open design of the coils, this section, combined with the coil section above, allow for excellent airflow throughout the mattress.
Finally, the Saatva comes with dedicated edge support, in the form of the company's Dual Perimeter Edge Support System. The bed has an extra foam layer around the edges, and encasing the upper coil system. This works to keep a stable edge, and will increase the longevity of the mattress greatly, while giving you the chance to fully utilize the entire surface of your mattress.
Ultimately, the Saatva comes with some heavy hitting features, and a unique material construction. The dual coil layers are something new, while the dedicated edge support gives it a leg-up against most competitors.
Everything Saatva uses in it's mattress are high quality, sustainably-sourced and eco-friendly and earn a 4.8 out of 5 for their Materials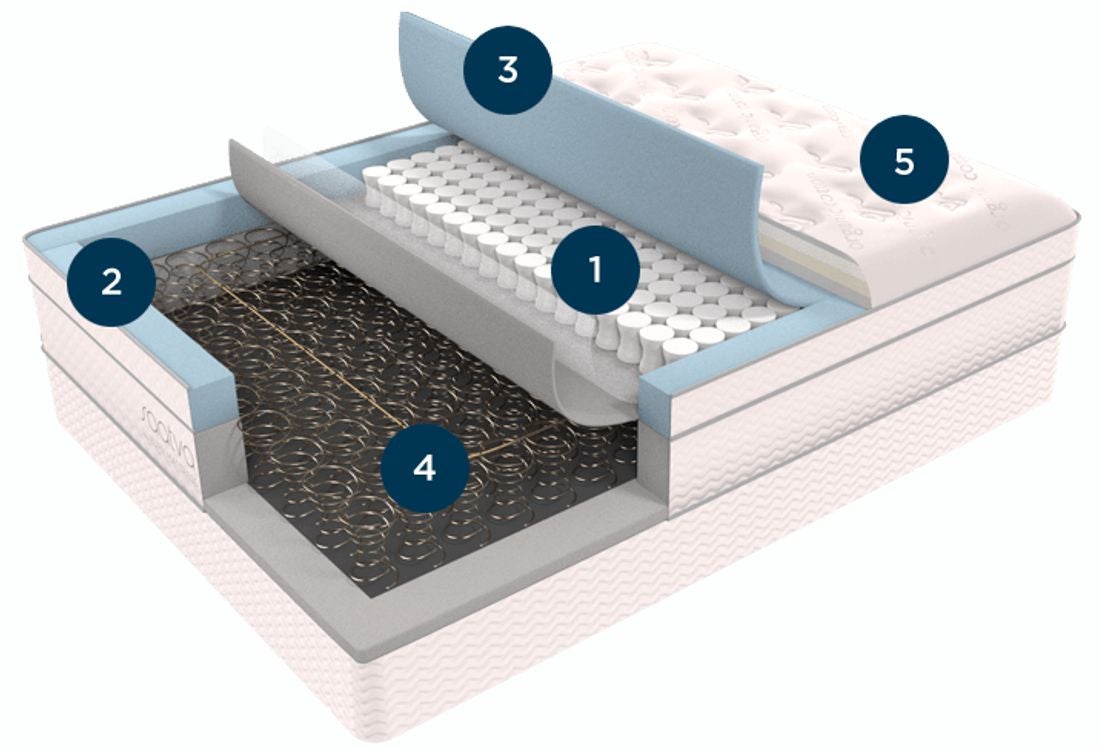 Trial and Warranty
The Saatva comes with a 120-night trial period, during which time you can return the bed for a full refund, less $99 for transportation costs. Free trial periods began a few years ago in the mattress world, and are now so common that you should expect them as standard, especially from the big name companies.
A four month trial period is plenty of time to get to know the feel of your mattress. It is recommended you keep the mattress for a minimum of 30-days, but this is up to you.
Saatva offers a 15 year non-prorated warranty. This means the company will cover any and all costs during this period, without you incurring any hidden fees and charges.
For the first two years, specifically, the company will completely replace the mattress if a manufacturer defect is found.
For the next 13 years of the warranty, the company will repair and re-cover the mattress for you, with only shipping charges to be covered by the customer.
If you choose, you can take advantage of  the Saatva Fairness Replacement Option, which gives you the chance to buy a completely new Saatva mattress for just 30% of the original price. This covers year 3-5 of the warranty.
For years 6-10 of the warranty, you can get a new mattress for 50% of the price.
For years 11-15 of the warranty, you can get a new mattress for 75% of the original price.
In this scenario, you get to keep your old mattress (useful, if you can repair it yourself), which you can use in a spare room or keep around as an emergency mattress.
The Saatva comes with a generous Trial and Warranty option that we expect of a luxury mattress and earns a rating of 4.75 out of 5
Customer Reviews
Verified buyer, Sam, gave the mattress 5 stars out of 5, and says:
"I am a very conscientious on-line shopper. I did a pretty thorough job on researching mattresses along with comparison pricing. It is a very, very challenging exercise and I was very reluctant almost giving up in actually buying a mattress. That's how tough it is. I made the choice to go with SAATVA and after 7-months the mattress is in the same condition it was when it first got delivered. I purchased the 14" and cannot express how much we look forward to going to bed at night as a reward for the day's work!"
Meanwhile, Fred and Maryann gave the Saatva full marks, and said:
"We have had the Saatva mattress for 2 full days and have to tell you it's the best sleep in years. We are no longer experiencing pressure pain in our backs and legs. We had a high density foam, hard mattress before for 5 years, and it was causing terrible pressure on the body. We were waking up during the night, never restful when rising in the morning. It is a pleasure to feel so comfortable falling asleep with no pain. We were very sceptical ordering the Saatva, but we are more than pleased in the first few nights we have had it. Thank you so much for such a great night's sleep. We look forward to enjoying it for many years to come. Again, fantastic sleep ever."
Boutania R. makes specific mention of the bed's ability to sooth back and muscle pains:
"In 2002 I had surgery on my neck (fusion of the C5 & C6) but my neck pain never went away for 10 years. I had to have a second surgery in 2013 and the doctor realized that my first surgery didn't take and now he has to fuse 3 vertebrae (C5, C6 and C7). It was a 6 hours surgery and I had to take a whole year off to heal. It was very painful for me to stop my work (I work with kids with special needs). I am very passionate about my work and my chronic pain started to get in the way of it. Last week I moved to New York and I decided to purchase a new mattress so I went on line to read review about brands and Saatva appealed more to me. I woke up pain free after the first night!!! It's a miracle, I don't know how they do it but I am really grateful to have found Saatva, it's worth every Penny. I rarely write reviews but this time I felt the responsibility to do so and perhaps avoid unnecessary pain to someone."
The Saatva mattress currently holds a total review score of 4.9 out of 5. This is from a sample size of 1,340 reviews. The score says it all.
Overall Value and Recommendation
The Saatva comes in three different comfort options, all at the same price. Likewise, the slim 11.5" version is priced the same as the 14.5" model.
That price is an incredibly low $1099 for a queen-sized mattress. Any queen-sized luxury mattress that goes for less than $1,000 is a rare find, and the Saatva presents excellent value for money in this regard.
We recommend this mattress to anyone who:
Wants to feel the extra spring and support of a twin-layer coil system.
Would like a cover with 1.25" of plush foam quilting.
Desires good edge support in their bed.
Prefers bounce and support to sinking and snugness.
Overall, the Saatva storms into the market-place with a range of unique features and an ultra-competitive price to boot. It isn't hard to see why they have been so successful with this mattress and the services offered with it.
For Overall Value and Recommendation we give the Saatva a cumulative score of 4.75 out of 5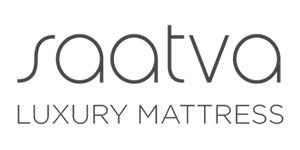 Price Table
Twin:
$599
Twin XL:
$749
Full:
$999
Queen:
$1099
King:
$1499
Cal King:
$1499
Saatva Guarantee

Free White Glove Delivery
120 Night Home Trial
15 Year Non-Prorated Warranty

Overall Rating: