Please note, Organic Sleep Reviews is proudly supported by our readers. The product links you'll find on Organic Sleep Reviews are referrals and if you purchase an item we do make a small compensation at no cost to you. Please see our disclosure page for full details.
The Brooklyn Signature Hybrid Review
Does the 'Best Mattress Ever' live up to its name?
Any mattress that includes the words 'Best Mattress Ever' in its name has a lot to live up to.
The Signature Hybrid from Brooklyn Bedding boldly makes this claim, and if the company's own sales reports are anything to go by – the BME is their best selling mattress of all time – then it seems like there might be some truth to all the hype.
Sleep, or lack of it, affects every other aspect of our daily lives, so it's no surprise that the mattress market has taken on a rather boutique look in recent years. Mattresses fall into a range of unique categories and utilize several different types of material – each one designed to serve a different purpose. You wouldn't just pick a random bottle of wine from the rack, and nor would you just buy any old mattress.
Take your time and consider your needs – most people keep their mattresses for longer than they keep their partners. Your choice of mattress will affect you even when you aren't lying on it, so be discerning and get to know the product.
This review will break down everything you need to know about the Brooklyn Signature Hybrid, and arm you with the knowledge required to make the right choice when it comes to a luxury, modern mattress.
Comfort and Feel
Brooklyn Bedding's patented TitanFlex foam is brought over from the original Signature model, with a total of 4-inches of the ultra responsive latex-like technology that adjusts to your body every time you move. This hybrid model also incorporates up to 1,024 individually pocketed coils that absorb pressure into the springs, and away from your muscles. An added layer of TitaniumGel cools the bed as you doze and works to promote an anti-bacterial sleeping environment.
This melding of technologies has resulted in hordes of glowing reviews from satisfied customers, but part of the secret also lies in the generous choice of bespoke mattresses at different comfort levels. Rated from 1-10 according to firmness, the scale is broken down into three comfort levels, and each comfort level is recommended for different types of sleeper. We will be doing this review based on the medium feel of the Brooklyn Signature mattress.
The soft model is recommended for those who usually sleep on their side and who want to be 'hugged' by their mattress. The soft model has proven particularly effective for people who suffer from dead limbs during the night. This is because it allows for the most pressure point relief by absorbing your weight and allowing for better blood circulation. This option is a 3.5/10 on the firmness scale with 10 being the firmest.
The medium (most popular) option is best-suited for couples and those who change their sleeping position during the night, adapting to front, back and side sleepers. It is best suited for those who don't necessarily want to sink into their mattress, but want a balance between snugness and smoothness. This option is a 5.5/10 on the firmness scale.
The firm option is for those who don't want to sink into their mattress, but prefer a firmer sleep with better lumbar support. Best suited for those who sleep on their backs or stomachs and want to keep their back supported during the night, these are the kind of mattresses that doctors recommend for muscle pain. Customer reviews on the Brooklyn Bedding website testify to the mattresses ability to relieve aches and muscle troubles. This option is a 7.5/10 on the firmness scale.
My first thought about the medium feel was awwww. I could feel a slight sink into the contouring top layer of gel memory foam with a slight push back from the TitanFlex comfort foam. What this told me is that the mattress allows me to sink in just enough for an ideal pressure relief on my hip and shoulders but not so much that I will be "in" the mattress, and the push back from the TitanFlex comfort foam and reactivity from the Ascension coils provided the necessary support. When I got out of the bed I could tell that there was a nice bounce from the coils which can be beneficial to people who suffer from issues with pain or mobility problems. The TitanFlex foam also offers the ability to change sleeping positions very easily as it helps to prevent excessive sinkage with elastic properties. The coil unit and TitanFlex foam work really well together to provide responsiveness and the layer of gel memory foam on top provides an ideal body contour.
I liked the feel, responsiveness and contouring of the Brooklyn Signature medium feel and give it a 4.7 out of 5 for Comfort and Feel
Motion Reduction
For every action there is an equal and opposite reaction. But the Brooklyn Signature works to negate the laws of physics by transferring energy throughout the entire structure of the mattress. It manages to be responsive and yet buoyant at the same time.
The 4-inches of ultra responsive foam is layered in two sheets, each 2-inches thick, allowing for maximum motion reduction. The pressure applied to the top layer is absorbed by the bottom layer, which in turn is then transferred to the springs.
The mattress is a pleasure to move around in, and makes for very little partner disruption. It also makes doing lazy-day work on your bed easier, by absorbing your weight easily without having your laptop and pens roll towards the gravitational sink-hole your body created. If your primary mattress requirement happens to be motion isolation than it may be best to look to an all-foam bed as they are more renowned for reduced motion transfer. For the average sleeper, however, this bed is more than adequate at providing a lower motion transfer.
I give the Brooklyn Signature a 4.7 out of 5 for Motion Reduction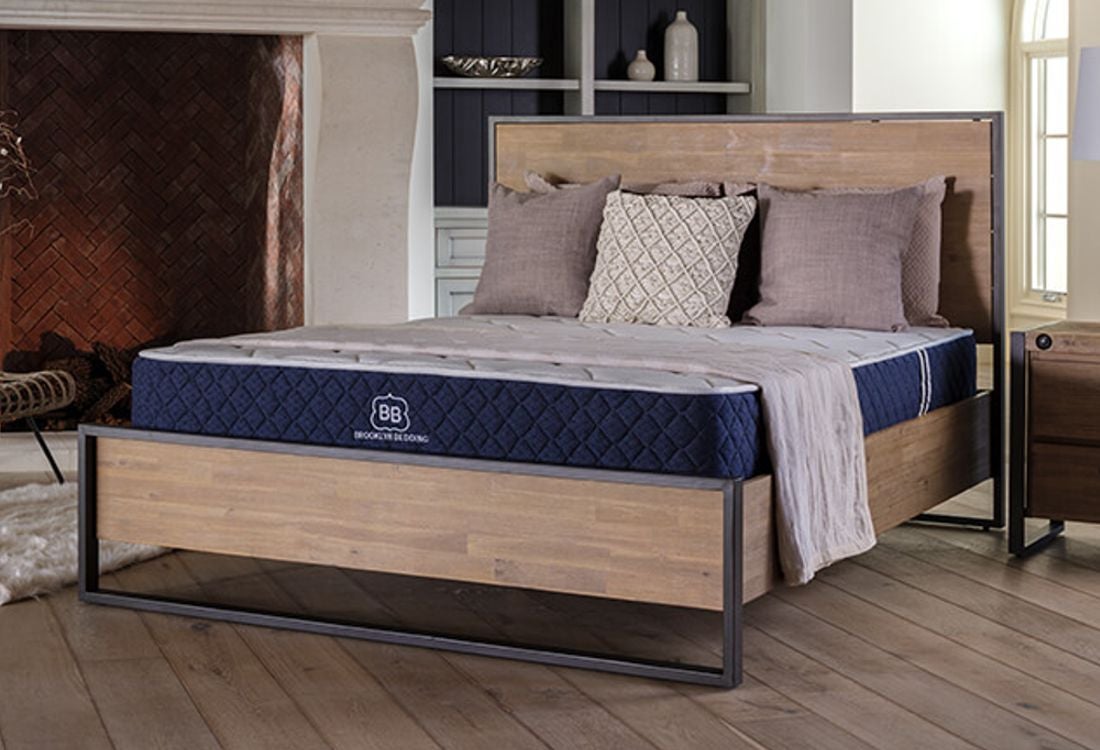 Delivery and Set Up
Delivery of the Brooklyn Signature Hybrid mattress is FREE! It is compressed and roll-packed into a cardboard box before being delivered straight to your doorstep. It usually takes 1-5 business days from the time you buy until the bed arrives (but it could be sooner, depending upon your location). Once you receive the mattress we recommend bringing it to the room you want it in before opening it. After it is in the desired room remove it from the box using scissors to cut the plastic – but be very careful not to damage the fabric of the bed when you do so. Once the plastic is cut free you can watch your bed expand! It will be fully expanded within 24 hours or so, but you will be able to sleep on it before then.
When setting up your new mattress it will need a foundation. One that provides a flat, even surface that will support the weight of the mattress as well as those sleeping on it. It also will need to be the right height for you as well as be aesthetically appealing. The Brooklyn Signature mattress will work great on a box spring with or without a frame, an adjustable base, a platform bed or slatted bed.

Off-Gassing
As the Brooklyn Signature is opened and starts expanding quickly you will only notice a slight 'new mattress' smell. 'Off-Gassing' can be a slightly misleading term, because no matter what brand you are looking at, they are going to have a smell. Natural and organic mattresses often times have the strongest smell, even though people associate them with no gassing. A smell is normal and no matter what brand you buy there will be some smell. I associate it with a new car or a new shoe smell. In most cases the smell will either be gone or very faint within 12-36 hours. I would recommend using a mattress protector; so once the mattress airs out you should apply your protector under your sheets, and by then there should barely be any smell at all.
For maximum effect, stand the mattress up on its own to allow it to air better, but at the end of the day, the 'new bed smell' is just a normal part of buying a mattress. The Brooklyn Signature had a pretty standard new product smell and was nothing to be offended by.
I rate the Brooklyn Signature 4.75 out of 5 for Off-Gassing
Temperature
This category is where hybrid and innerspring mattresses stand out. One of the biggest sticking points for mattress buyers is temperature. Luckily, the Brooklyn Signature comes equipped with a layer of TitaniumGel which works in conjunction with the breathable quilted cotton polyester cover. This ensures constant circulation and helps dodge one of the main issues that pop up with traditional memory-foam mattresses.
The TitanFlex foam, which provides much of the comfort in the mattress, is also responsible for much of its cooling ability. The properties of the foam are such that it doesn't absorb heat, and is aerated to allow for proper air circulation.
Since this is a hybrid, air-circulation doesn't just stop at the top. The coiled spring system provides more room for air to move through the mattress while you sleep. Couple this with appropriate foundation to maximize airflow, or use it on a bed with a wooden-slatted base.
Keeping cool is one area where the Signature Hybrid truly excels, with every piece of material being designed to contribute to effective temperature regulation.
I rate the Brooklyn Signature at a 4.75 out of 5
Edge Support
It's all well and good having a good mattress, but are you getting the whole mattress? A high edge support rating is a sign of quality, and means you're getting the most bounce for your buck. You wouldn't buy a set of curtains that only covered the centre of the window, and you wouldn't buy a bed that only functioned properly in the middle.
The tight-coil system of the mattress, coupled with the twin layers of foam, makes for a strong edge support and opens up the entire bed for regular use. Most mattresses will 'lean in' at the edges after heavy, prolonged use. But the build of the Brooklyn Signature works against this by offering an equilibrated surface supported by the coil system underneath.
Given the twin technologies on display in the Hybrid, edge support is taken care of more than sufficiently. In the finely tuned world of mattress construction, edge support separates the wheat from the chaff. This mattress delivers with flying colors.
I give the Brooklyn Signature 4.75 out of 5 for Edge Support 
Materials
One of the primary reasons I have chosen to review the Brooklyn Bedding Signature Hybrid, along with every other product on this site, is because it utilizes organic, natural,  CertiPUR-US Certified foams or all three. This mattress uses CertiPUR-US certified foams in it's construction. If you are not familiar with CertiPUR-US foams now is a good time to get acquainted as you should seek out a mattress with at least one of these materials.
CertiPUR-US® is an independent certification program administered by a not-for-profit organization.
CertiPUR-US certified foams:
Are made with no ozone depleters
Are made without using PBDEs, TDCPP or TCEP flame retardants
Are made without using lead, mercury or other heavy metals
Are made without using formaldehyde
Are made without using phthalates regulated by the Consumer Product Safety Commission
Are made with Low VOC (Volatile Organic Compound) emissions for indoor air quality (less than 0.5 parts per million)
It gives yet more peace of mind knowing that not only are you getting a superior product but you are getting a healthy mattress that you can feel good about having in your home or having your kids play on.
The Signature Hybrid is a carefully constructed vortex of comfort that relies on three main pieces of technology. Each work in conjunction with the other and represent the current peak in mattress material tech.
The top layer is 2-inches of TitanFlex foam which acts as the first line of response and support. The foam is made out of an aerated material allowing for maximum air-flow. The lack of heat absorption is another box ticked for this mattress as far as efficient material goes.
The middle layer is made up of a further 2-inch layer of TitanFlex and acts as the mediator between the foam on top and the coils underneath. The separation of the foam layers allows for better energy relocation from the surface of the mattress, and performs better than a 4-inch slab of foam would on its own.
The bottom layer is made up from 1,024 Ascension Pocketed Coils. These tightly pocketed springs are 6-inches long and allow for a super-reactive response to movement while sleeping, while acting as the base which maintains and supports the structural integrity of the mattress.
As previously mentioned, the TitanGel cooling layer adds another layer of hi-tech materials to the list of goodies, while the coil system also rests upon 1-inch of base foam.
The cherry on the cake is the luxurious quilted cotton cover which is aerated enough to allow for passive cooling. Overall, it's hard to find a better collection of materials on the market today.
For the exceptional and proprietary Materials of the Brooklyn Signature mattress I give it a rating of 4.7 out of 5  
Trial and Warranty
The first thing to know is that Brooklyn Bedding offers a free 120-night sleep trial period. Yes, that's four months to make a decision on whether you like it or not. That's frankly more than enough time to get to know the contours of the mattress, and gives you the opportunity to test the mattress thoroughly before making a concrete decision.
The next thing to know is that they offer a 10 year warranty. Within that decade, any mattress bought in-store or online at their website is covered with a warranty that caters for any defects, or body impressions that are 1-inch or deeper. The pillows come with a 3 year warranty, while the sheets are covered for 1 year, relating to any defects in the material. Brooklyn Bedding's trial and warranty are pretty standard for the bedding market. Only a couple of companies offer a trial longer than 120 days but many of the companies do offer a warranty longer than 10 years. It is worth noting that Brooklyn Bedding has been in business a lot longer than the vast majority of online mattress companies so their trial and warranty is tested and true.
We score the Brooklyn Signature Hybrid a 4.7 out of 5 for Trial and Warranty 
Customer Reviews
Verified buyer on the Brooklyn Bedding review page, Brittney R. gave it 5 stars:
"I LOVE THIS BED!!!! I really researched all my options first as well. I found that there weren't many recommendations for people of my stature – I am 5'2 and weigh 110 lbs. My arms tend to fall asleep if I am on a hard surface (like my futon). I purchased the soft mattress, and it is truly amazing. I fall asleep within 5-10 minutes which used to be unheard of for me. I have had this bed for 8 months now and it has been the best purchase ever. I will get a little warm, but it may be due to my mattress protector…"
Another 5 star review from verified buyer Beryl A. quotes:
"So far so good. I'm getting sleep that I only use to dream about. This mattress is very comfortable just right for me. Thanks Brooklyn Bedding glad I chose you and believe me I spent many hours doing mattress research and reading and watching video reviews before I made my choice. And the pillows are great as well."
Out of the 3,206 reviews on the Brooklyn Bedding website at the time of writing, 2,500 of them are rated at 5 stars.
Only 9 reviews are rated at 1 star and most of them concern differing opinions on what qualifies as soft or firm – a question that will always be somewhat subjective.
Brooklyn Bedding maintains an active presence on their review site and tends to get back to customers immediately to resolve any issues. A quick glance of their posting history shows offers to supplement dissatisfied customers with valuable free extras to improve their experience, and they are always on hand to solve any problems.
Overall Value and Recommendation
What more is there to say? The Brooklyn Bedding Signature Hybrid covers all bases in its drive for ultimate comfort. Any online criticism that this writer can find only concerns disagreements about the firmness of the mattress, while the mass of reviews are positively glowing.
The pricing range begins with the Twin-size bed which comes in at $599. The biggest mattress is the King-size which costs $1,249, with the option of a CA King if you want a broader but narrower mattress.
As the pricing range suggests, this is a luxury mattress and will not be suitable for the casual buyer – although financing can be arranged.
However, the Queen-size model is priced at $949, and it's a rarity to find a Queen-size bed in the luxury mattress market for under $1,000.
We recommend the Brooklyn Signature to anyone that:
Would benefit from the choice of three different levels of firmness.
Needs firm support for muscle aches.
Desires a cool sleep without excessive body-heat build up.
Wants surface consistency and friction for motion resistance.
Wants to take advantage of the 120-night free trial.
Overall, this is a premium mattress that has its quality reflected in its price. With a generous trial period and a decade's worth of extensive warranty cover, the Brooklyn Signature is a hi-tech piece of bedding that might just live up to its nickname… #BestMattressEver
*Note that prices listed below do NOT include our discount
The Brooklyn Signature scores a cumulative rating for Overall Value and Recommendation of 4.7 out of 5
Price Table
Twin:
$599
Twin XL:
$699
Full:
$849
Queen:
$949
King:
$1249
Cal King:
$1249
Overall Rating

Free Shipping (Lower 48 states)
120 Night Trial Period
10 Year Warranty

Overall Rating:
Comfort and Feel

Motion Reduction

Off Gassing

Temperature

Edge Support

Materials

Trials and Warranty

Average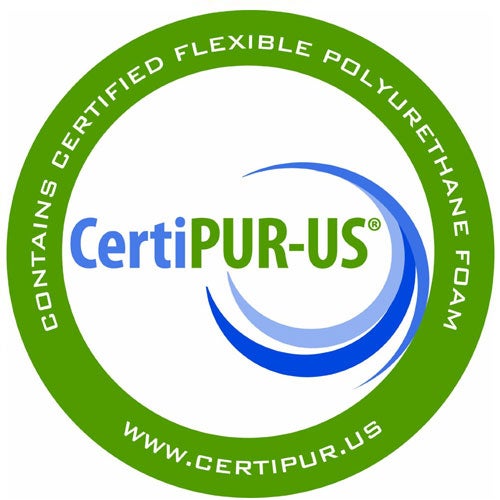 You May Also Like