Please note, Organic Sleep Reviews is proudly supported by our readers. The product links you'll find on Organic Sleep Reviews are referrals and if you purchase an item we do make a small compensation at no cost to you. Please see our disclosure page for full details.
Brentwood Home Oceano
Brentwood Home has been masterfully handcrafting mattress in California for more than 30 years, Their Oceano mattress is a hybrid bed that combines the long lasting support and responsive comfort that you find with a traditional innerspring and the pressure relief of the more modern gel memory foam. With Brentwood Home being one of the most seasoned of all the online companies their Oceano model is one every person considering a hybrid bed should consider.
Comfort and Feel
The Oceano mattress with it's medium plush feel offers a unique feeling of both comfort and firmness ranking at about a 6.5/10 on the firmness scale with 10 being the firmest. It has a high density gel memory foam which relieves pressure points by contouring to the curves of your body. Brentwood's microcoils are able to provide support and evenly distribute weight across the entire surface of the bed for a "just right" kind of feel. Their 5-zone base is comprised of encased coils that provide a support that is targeted to your shoulders and lower back and give this mattress a great luxury feel. The Oceano also boasts two natural layers: their cover is made from plant-based Tencel fibers and a layer of sustainable New Zealand Wool. The Oceano is able to provide support to problem areas such as the hips, back and joints. It is a great option for those who like the softness of memory foam but not the struggle when changing positions that you can get with a memory foam mattress. It works well for all sleeping positions and is a great mattress for couples. The Oceano has a very luxurious, comfortable and supportive feel.
For Comfort and Feel I give the Brentwood Oceano a 4.8 out of 5 
Edge Support
Edge support is an important factor consider since a durable edge support will make it easier to get in and out of the bed and keeps you properly supported if you sleep near the edge. Hybrid and innerspring typically perform well in this area. The Oceano's reinforced coils around the edge of the mattress keep it both supportive and rigid which can be a benefit to those who have issues getting in and out of bed.
The Edge Support of the Oceano earns a 4.8 out of 5 for their rigid and sturdy construction
Motion Isolation
Beds with coil/innerspring units don't have the best reputation when it comes to isolating motion. Fortunately, hybrid mattresses are beneficial because they also include materials that help to minimize the motion transfer. This combination of materials is able to provide a moderate feeling of bounce without transferring a wave of motion to your sleeping partner. The individually wrapped coils also provide additional isolation of motion to the area of their impact. The Oceano is a truly impressive hybrid in it's ability to reduce motion transfer and Brentwood Home's decades of experience building mattresses really shines through.
For Motion Reduction I rate the Brentwood Home Oceano a 4.75 out of 5
Off-Gassing
Most new products have some sort of smell, it depends on the materials used in making the product. Most mattresses off-gas, what customers should look out for more are mattresses that off-gas for too long.
The Oceano mattress is delivered compressed and roll-packed in a box, the first thing you should do is to bring it inside the room you want to open it in, opening it in another room is extra stress carrying it to the room after it has fully expands. Some brands send along a small cutting utensil to open the mattress much like a letter opener. If that is not the case use a scissors or cutters to open the mattress but be careful not to cut the fabric covering the mattress. As it expands, you will notice the new smell. The smell doesn't last for long, within 12-36 hours the smell will be gone or very faint.
If you are the type that is sensitive to even the slightest smell of new product, I encourage good ventilation around the house, especially the room which you opened the mattress in. Also, you can make use of a mattress protector, so once the mattress airs out, using a mattress protector and sheets will help to lessen the smell.
For Off-Gassing I rate the Brentwood Home Oceano a 4.75 out of 5
Temperature
The coils in the support layer provide support and firmness so the sleeper does not go all the way into the mattress when sleeping even though the top layer is memory foam. The sleeper is "on" the mattress and not "in" the mattress which exposes the body more to air for a cooler sleep versus sinking further into the mattress and retaining heat.
Brentwood Home used a well thought out materials combination to ensure that the Oceano was able to regulate temperature effectively. To achieve this, the Oceano depends largely on it's use of it's two coils systems. Coils have the ability to recycle air flow and work in conjunction with the memory foam's open cell technology, the fibers from the Tencel cover and the New Zealand Wool to ensure effective temperature regulation.
I rate the Brentwood Oceano a 4.75 out of 5 for it's Temperature regulation 
Delivery and Set Up
The mattress is compressed, wrapped and delivered in a box. After delivery, the mattress might take up to 5 days before full shape recovery. Delivery is done only to the contiguous 48 states and is FREE. White Glove delivery is also available for in-home mattress assembly and packaging waste disposal. However, this service is free for customers ordering the king and California king-size mattress. Customers ordering the queen size or smaller will have to pay for the White Glove delivery service, which is an additional fee of $199. The white glove delivery also offers an old mattress removal service for an additional charge, customers ordering the king size or California king size will pay $75, while all others will pay $76 on top of the in-home assembly fee of $199 for a total of $275 .
All standard deliveries are delivered by FedEx via their FedEx Ground service. Most mattress are manufactured and shipped to the customer's address within five to 10 working days, although, customers in rural areas may experience a delay in delivery. Customers that request the service of white glove delivery get their mattress within one to two weeks.
When setting up your new mattress it will need a foundation. One that provides a flat, even surface that will support the weight of the mattress as well as those sleeping on it. It also will need to be the right height for you as well as be aesthetically appealing. The Brentwood Oceano mattress will work great on a box spring with or without a frame, an adjustable base, a platform bed or slatted bed.

Materials
One of the primary reason I have chosen to review the Brentwood Home Oceano, along with every other product on this site, is because it utilizes organic, natural,  CertiPUR-US Certified foams or all three. This mattress uses sustainable New Zealand Wool and CertiPUR-US certified foams in it's construction. If you are not familiar with CertiPUR-US foams now is a good time to get acquainted as you should seek out a mattress with at least one of these materials.
CertiPUR-US® is an independent certification program administered by a not-for-profit organization.
CertiPUR-US certified foams:
Are made with no ozone depleters
Are made without using PBDEs, TDCPP or TCEP flame retardants
Are made without using lead, mercury or other heavy metals
Are made without using formaldehyde
Are made without using phthalates regulated by the Consumer Product Safety Commission
Are made with Low VOC (Volatile Organic Compound) emissions for indoor air quality (less than 0.5 parts per million)
It gives yet more peace of mind knowing that not only are you getting a superior product but you are getting a healthy mattress that you can feel good about having in your home or having your kids play on.
Materials used in constructing a mattress will determine its overall performance, over the years we have seen mattress companies used different unique materials to make a mattress that has caught the attention of customers, the type of materials used in constructing a mattress will determine its performance. Brentwood Home used unique materials that each have their unique purpose to construct the Oceano mattress, below are the materials and the role they play.
Tencel Stretch Knit Cover Tencel is an eco-friendly plant-based type of fiber that is used to create cloth that is both very soft and very breathable. This special two layered cover is what helps keep the mattress cool and ventilated; the top mattress also utilizes some New Zealand wool, which is known for its insulation ability, it helps to draw off moisture and increase ventilation and air circulation. Additionally, New Zealand wool is a sustainable material and used in all of Brentwood Home's handcrafted mattresses.
Gel Memory Foam This portion of the mattress is about two inches thick and is critical to the pressure-relieving aspects of the mattress. The memory foam contours to your individual body shape and can help to relieve pressure, tension, and pain in your body, particularly problem areas like your back, hips, and other joints. This memory foam is known to be soft and tends to make sleepers sleep in the bed rather than sleep on it. Although, it is known to retain heat, when used with properly with an appropriate material, it can be very good foam because it isolates motion in mattress and it gives sleepers the plush feeling and comfort.
Individually wrapped micro-coils This specially designed layer is approximate two and a half inches thick and contains the coils that help to give this mattress its firmness and support, as well as its traditional mattress feeling. These micro-coils are individually wrapped, and will respond and adjust to your movements while you sleep, providing you with firm support regardless of what position you're in. They help to reduce the sinking feeling of the memory firm by providing firmness and support from the support core of the mattress.
Airlux Foam This layer is made of CertiPUR-US certified foam that is guaranteed to be non-toxic. This foam is designed to help increase air flow within the mattress and aid in ventilation, helping to keep the mattress (and you) cool at night. This material helps to counter the heat-retaining characteristics of the memory foam, this material helps to keep the temperature of the mattress cool while sleeping on the mattress.
Individually wrapped base coils This layer is eight inches thick, it is what provides the mattress good support and firmness, as well as that traditional mattress feel. The Quantum Edge Combi-Zone base coils that make up this layer are strategically positioned to provide support to the hips, back, and shoulders. The strong coils also help provide the mattress with solid edge support, which helps sleepers to sleep comfortably at the edge, and also keeps the mattress from breaking down and losing its shape.
Brentwood Home's use of high-quality and healthy Materials earns them a rating of 4.85 out of 5
Trial and Warranty
Brentwood Home offers customers a 120-night sleep trial. The trial comes with a mandatory 30-night break trial period, which means customers cannot return the mattress after delivery until they have used the mattress for at least 30 nights. After the 30 nights, if a customer is not satisfied with the mattress, the customer can request a refund or exchange for another mattress. For the exchange of mattress, a customer can only exchange their mattress twice within a year, any customer who exceeds the limit will have to pay the standard delivery fee when returning the mattress. All returned mattresses are donated to charity.
They offer a 25 year warranty that is divided into a prorated period and non-prorated period. The warranty starts from the day the purchase of the mattress is made, in case of any defect in the mattress, Brentwood Home will repair or replace the mattress at its own discretion as long as the warranty stands. The non-prorated period of the warranty is the first 10 years after purchase, if there are any defects during this period the company will repair or replace the mattress but the customer will handle the delivery and handling charges while Brentwood Home handles all other expenses. The prorated period is for the last 15 years of the warranty coverage; for the 11th year, customers will pay 50% of the original price of the mattress for their defective mattress to be replaced. The prorated charge will keep increasing by 5% from the 11th year to the 20th year. By the 20th year, customers will have to pay 95% of the original price of the mattress to replace their defective mattress. The last 5 years of the warranty period has a flat prorated charge of 95% of the original price of the mattress for mattress replacement. The customer will be responsible for the delivery and handling charge throughout the prorated period of the warranty (11th to 25th year)
There are terms and condition that must be followed before a customer can enjoy the trial and warranty service the company provides to its customers. For example, the mattress must be opened and un-packaged within two weeks of delivery of the mattress, otherwise, the warranty coverage will be invalid. Also, the trial period is only available for customers that purchased their mattress from the company not from other retailers like amazon.com. Brentwood's trial and warranty period exceeds the industry average, even with some companies migrating to trial periods as long as a year and lifetime warranties.
I give the Trial and Warranty of the Brentwood Home Oceano a deserving 4.75 out of 5
Popular Reviews
Rachel C. a verified buyer rated the Oceano 5 out of 5 stars saying:
Great mattress
We had problems with the delivery company losing our mattress, but Brentwood Home responded quick to the problem and compensated us for the inconvenience. This mattress has given us the most comfortable sleep we have ever had!
Jason M. a verified buyer gave the Oceano 5 out of 5 stars and wrote:
BEST MATTRESS EVER
The Oceano feels like your sleeping on clouds. Me and my wife can't believe how comfortable this is for the BOTH of us. If you've been researching different mattresses and you made it to this one, I would suggest taking the plunge and at the very least trying it out. It will change your sleep life forever! (would suggest adjustable bed frame as well, to take it to the next level).
Roman M. a verified buyer rated the Oceano 5 out of 5 stars and wrote:
Oceano Mattress
I'm a side and back sleeper and so far i am very satisfied. I jump out of my bed with no aches or pain and i'm a senior so that is a plus. you get a tool to cut it open which is great just get out of the way. open it were your going to put it because it's heavy. If there is a con it's 15 inches high so your dog and grand kids won't be joining you if you think that's a con.
Overall Value and Recommendation
The Brentwood Home Oceano excels in each category it was reviewed under. This bed is made of quality materials that provides great air flow for temperature regulation, pressure point relief, zoning for comfort and to ensure you stay properly aligned. The value of this hybrid mattress is pretty exceptional and priced competitively when compared to other online hybrids that are offered.
*Note all prices listed below do NOT include our discount
For Overall Value and Recommendation I give the Brentwood Home Oceano a cumulative rating of 4.77 out of 5
Price Table
Twin:
$995
Twin XL:
$1195
Full:
$1295
Queen:
$1495
King:
$1995
Cal King:
$1995
Brentwood Home Guarantee

Free Shipping
120 Night Trial Period
25 Year Prorated Warranty

Overall Rating: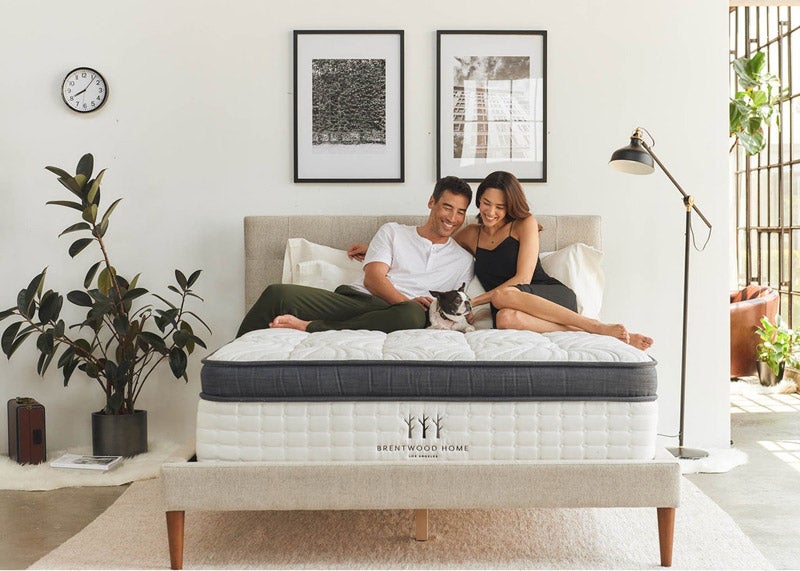 Comfort and Feel

Motion Reduction

Off Gassing

Temperature

Edge Support

Materials

Trials and Warranty

Average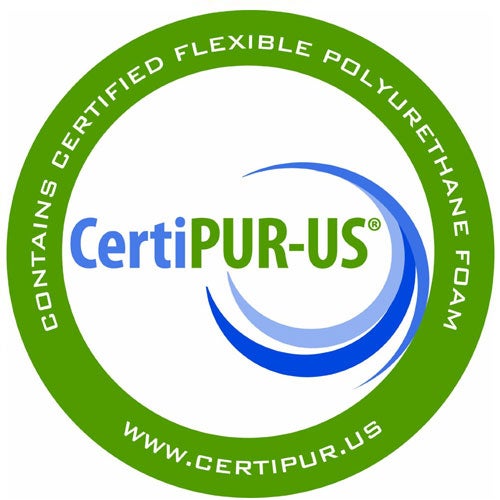 You May Also Like