Please note, Organic Sleep Reviews is proudly supported by our readers. The product links you'll find on Organic Sleep Reviews are referrals and if you purchase an item we do make a small compensation at no cost to you. Please see our disclosure page for full details.
My Green Mattress Review
Good sleep is important for the general well-being of the body. A comfortable mattress is prerequisite for a good sleep.
My green is a division under Quality sleep shop, which was established in 1968. In 2007, My green mattress was launched. The company has an A+ rating with BBB. They have three models and the two we will be discussing are the Pure echo and Natural escape.
Comfort and Feel
Different sleepers prefer different mattress firmness, Some prefer a very soft mattress, while some prefer a firm mattress, and of course there are those that prefer a medium mattress i.e. not soft nor firm. Some mattresses come with all these firmness options while others don't. My green mattress has two different models we will be looking at; Pure Echo and Natural Escape. Pure Echo is designed to have one sided and two sided options, meaning customers can choose to either buy the Pure Echo model with the one sided option which has a firm option that rates at about a 7 out of 10 (10 being the firmest) or you can opt for the two sided option, which is flippable and has both firm and medium firmness options on either side of the mattress. Natural Escape offers a one sided option that has a medium firm option that comes in at about a 6 out of 10.
The difference between Pure Echo and Natural Escape is that Pure Echo is a pocketed innerspring mattress with GOTS certified organic cotton and Oeko-Tex certified natural wool while the Natural Escape has all of the features of the Pure Echo plus 3 inches of GOLS certified organic, 100% all-natural Dunlop latex. The organic wool and cotton help to provide a soft feel to the mattress even though the two models are designed to be firm or medium. The effect of the cotton and wool can still be felt by sleepers as the mattress is comfy.
I rate My Green Mattress 4.6 out of 5 for Comfort and Feel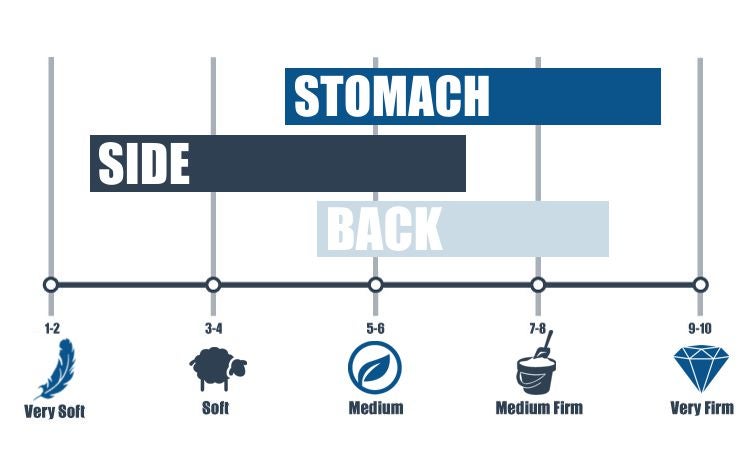 Delivery and Set-Up
My Green Mattresses are roll-packed in plastic for shipping. They deliver to all the US states (including Alaska and Hawaii) and Canada. Standard delivery fee is free to all the 48 contiguous states. However, customers in Alaska, Hawaii and Canada will have to pay for the delivery which varies depending on the location. Delivery is done by FedEx, it takes roughly between 7 to 14 working days after making an order for customers to get their delivery. After making an order, a 12-digit tracking number is given to the customer. With this tracking number, all customers can track the progress of their mattress and anticipate when the mattress will arrive.
There are few cases when a customer receives a damaged packaged, this may be as a result of accident during the course of shipping the mattress. Any customer that experiences this should not open the mattress, they should call the company through their toll free number which is available on the company's website. Customers that wish to cancel their order should do that as soon as possible, because once the mattress has been shipped, they won't be able to get back a full refund. Please note that, in many cases, the order will ship on the same day the order is placed.
When setting up your new mattress it will need a foundation. One that provides a flat, even surface that will support the weight of the mattress as well as those sleeping on it. It also will need to be the right height for you as well as be aesthetically appealing. My Green Mattress will work great on a box spring with or without a frame, an adjustable base, a platform bed or slatted bed.
Motion Isolation
Imagine you are in this scenario; after a tiring day and you badly need a long undisturbed sleep, however, you are frequently disturbed by your partner's movement on the mattress, I guess we all have an idea how frustrating that can be. That is why motion isolation is another feature customers should look out for when buying a new mattress. Motion isolation is a feature that allows a mattress to minimize movement on the mattress to a bare movement. Similar to edge support, motion isolation also depends on the type of mattress.
Although innerspring and hybrid models also perform well when it comes to motion isolation, they generally do not absorb and isolate motion transfer to the same extent as foam or latex models. As a matter of fact, memory foam mattresses are likely the best mattress when it comes to motion isolation. The two models of My Green Mattress perform a little above average when it comes to motion isolation, although Natural Escape performs better because it has a thick latex layer, which allows it to absorb and minimize more motion transfer than the Pure Echo.
For Motion Isolation I give My Green Mattress Pure Echo a 4.45 out of 5 and Natural Escape a 4.7 out of 5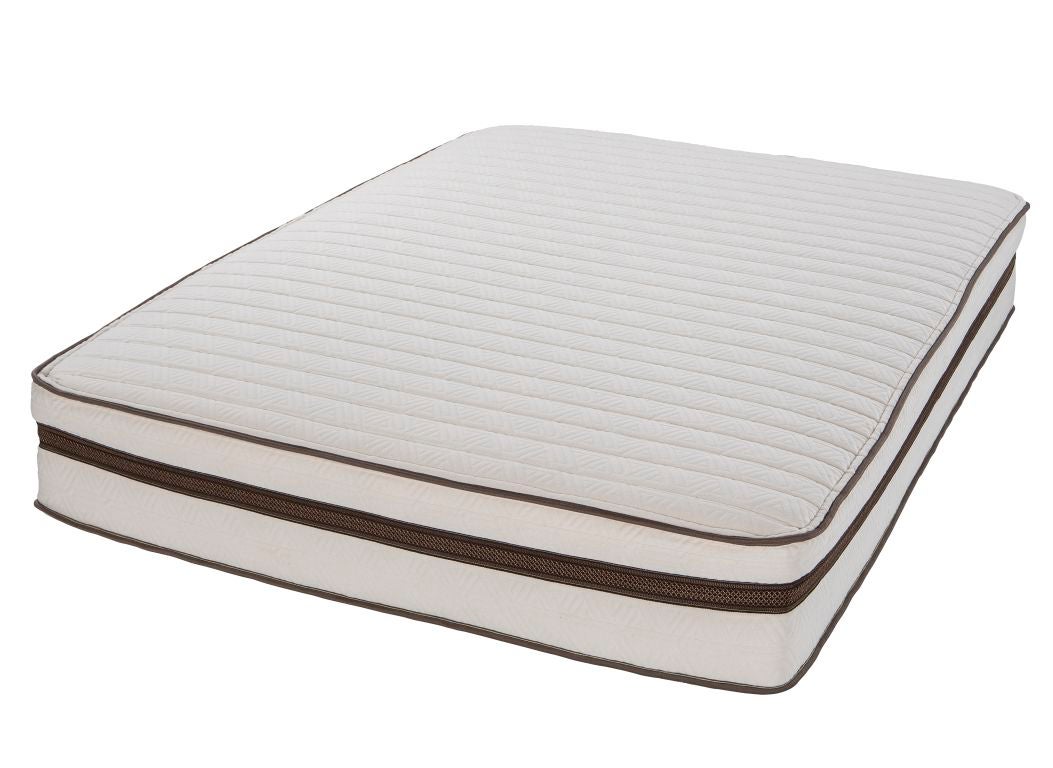 Off-Gassing
Off gassing is a common phenomenon among new items, not necessarily mattresses. New items like shoes, cars etc. all produce the 'new' smell. This is most times harmless, although some smell can be pungent and disturbing. Almost all type of mattresses off gas, the important thing to take note is how long the smell takes to disperse and how pungent is the smell. Off gassing may occur in innersprings and hybrids, but these models tend to produce less odor than those made exclusively of foam.
The two models of My green mattress all off gas, but the smell is not pungent and also, it does not take long before the smell disperses. However, if you want the smell to disperse quicker, I recommend good ventilation around the house especially your bedroom where you will be opening the mattress in. You can also use mattress protector if you don't want to perceive any smell at all.
I rate My Green Mattress 4.6 out of 5 for Off-Gassing
Temperature
Temperature is a sensitive thing when it comes to sleeping condition. There is hardly anyone that feels comfortable when they sleep on a mattress that sleeps hot. The discomfort alone can keep someone awake, especially if you are the type that is sensitive to hot weather.
My green mattress models, pure echo (innerspring) and natural escape (latex hybrid) mattresses tend to retain low amounts of body heat and sleep fairly cool as a result. This is as a result of the cotton and natural wool that was used to make the cover of the mattress. These two materials are breathable and allow flow of air in and out of the mattress. Wool is also known to have insulation ability, this allows it to regulates temperature in response to the temperature of the area.
I rate My green mattress 4.6 out of 5
Edge-Support
This is an important feature in a mattress, especially if you are sharing the mattress with a partner. A mattress without good edge support will easily sink in when you sit on the edges, also you can easily fall off the mattress when you sleep around the edges. However, mattress with good edge support will provide to sleepers even when they are sleeping on the edges, it will not feel like they want to fall out. The edge support of a mattress depends on the type of mattress, generally, innersprings and hybrids usually provide more edge support than memory foam and latex mattresses.
The two models of My green mattress; pure echo and natural escape are innerspring and hybrid mattress respectively. They both have pocketed coils in their support layer, which is known to be a very good material in providing support in the mattress from the center to the edges of the mattress.
I rate My green mattress 4.65 out of 5
Materials
One of the primary reason I have chosen to review My Green Mattress, along with every other product on this site, is because it utilizes organic, natural,  CertiPUR-US Certified foams or all three. This mattress has both organic cotton and wool and natural latex. If you are not familiar with CertiPUR-US foams now is a good time to get acquainted as you should seek out a mattress with at least one of these materials.
CertiPUR-US® is a certification program administered by a
not-for-profit organization.
CertiPUR-US certified foams are:
✓ Made without ozone depleters
✓ Made without PBDEs, TDCPP or TCEP ("Tris") flame retardants
✓ Made without mercury, lead, and other heavy metals
✓ Made without formaldehyde
✓ Made without phthalates regulated by the Consumer Product Safety Commission
✓ Low VOC (Volatile Organic Compound) emissions for indoor air quality (less than 0.5 parts per million)
It gives yet more peace of mind knowing that not only are you getting a superior product but you are getting a healthy mattress that you can feel good about having in your home or having your kids play on.
The type of materials used in constructing a mattress has a lot to do with the features and qualities of the mattress. My green mattress has 2 models; pure echo and natural escape. These two models are each made with slightly different materials resulting in different type of mattresses, pure echo is an innerspring mattress while natural escape is a latex hybrid.
The pure echo is a pocketed coil innerspring mattress. In its comfort layer which is 2 inch, there is the organic cotton cover and a layer of wool. Cotton as we are all familiar is a soft breathable material. It provides a soft feeling to the mattress. While wool is also a breathable material, but in addition to that, wool has insulating ability which makes it to regulates temperature in accordance to the temperature of the environment. These two materials are both organic and hypo-allergic i.e. they have no reaction to any type of allergy.
Below the comfort layer is the support layer which is made up of 15.5 gauge pocketed coils that are positioned at the head and foot; 15.5 gauge coils that are positioned in the center and lastly; 13.5 gauge coils positioned around the mattress edges (this explains the good edge support the mattress has).Pocket coils are independent coils that are wrapped in fabric pockets, a design now common in innersprings. The coils work independently and conform to the body contours, helping to relieve pressure and also isolate motion.
The natural escape is a latex hybrid mattress. The comfort layer also has cotton cover and a layer of wool as in pure echo. In addition to that, the comfort layer also has a bottom layer of organic Dunlop latex. Just as in pure echo, the cotton cover and wool performs the similar function. The Dunlop latex used is one of the two types of latex (the other one bring Talalay latex). The major difference between these two is that they are produced using different method which makes Dunlop latex to be firm and dense while Talalay is soft and airy. Latex generally is gotten from the sap of a rubber tree and possesses elasticity. So technically it is this elasticity that allows the mattress to conform to the shape of the body. Most latex mattresses are soft but firm. This feature makes latex mattress the ideal choice for people with musculoskeletal ailments as it helps to relieve back pain amidst other advantages like good air circulation which provides good sleeping temperature, durability etc.
The support layer is made pocketed coils which performs the same function as the ones in Pure Echo.
I rate My Green Mattress 4.65 out of 5 for their Materials

Trials and Warranty
Trials are necessary to customers because it gives them the privilege to try out new materials. A customer may have been using a memory foam mattress for so long and decides to try out a new type of mattress, of course if there is no trial period, they will be too scared to try a completely new mattress because most of these mattresses are actually expensive. However, with a trail period, they can freely purchase the mattress and when it is not suiting to their taste, they can return it without losing all their money. My green mattress offers a 100-night free sleep trial. Their trial period comes with a mandatory 30-night break-in period. This implies, customers must use the mattress for at least 30 nights before returning the mattress for a full refund. After the 30 nights and a customer is still not satisfied with the mattress, he/she can return the mattress for a full refund, and after that, a prepaid shipping label will be mailed to the customer. Customers that are outside U.S will not be refunded back their delivery charges. Customers must make use of mattress protector during the 100-night sleep trial because failure to do so will invalidate their trail period, meaning they cannot return the mattress even within the trial period.
My green mattress offers customers a 10-year non-prorated warranty period. My green at its sole discretion will choose to repair or replace any defective mattress. There are terms and conditions to abide by if you want to get full benefit of the warranty coverage. One of the important things to take note before asking for warranty coverage is, make sure you are the original purchaser of the mattress to avoid any misunderstanding. The warranty will be invalid if the mattress is used with a foundation featuring slats spaced more than 3 inch apart. The warranty will not be renewed or extended after repairs or replacements have been done. Mattress owners are responsible for all shipping and handling costs associated with repairs or replacements at any point during the 10-year warranty period.
This warranty exclusively extends to original owners who purchase their mattress from My green mattress or any other authorized retailer. Those who buy or acquire their mattress from the original owner or a non-authorized retailer will not be eligible for warranty coverage.
I rate My Green Mattress 4.45 out of 5 for Trials and Warranty
Customer Reviews
John Butler, a satisfied customer gave a rating of 10 out of 10 and wrote in his review
'If you're looking for a good toxic/chemical free all Organic mattress for your money look no further. My Green Mattress is the best. I Purchased a Queen size about 3 months ago and now I'm very happy to say I don't wake up with lower back pain or allergies. Also has great motion transfer'
Yasminvaldes, another customer gave a rating of 9.4 out of 10 and wrote
'My wife is a Naturopathic Doctor and understands the importance of a natural mattress and insisted we buy one for my daughter when we moved her out of her crib. I was hesitant since these are so expensive, but she explained that sleeping on a mattress that is not natural means that her face is pressed up against chemicals and toxic off-gassing for an entire night. This was a huge concern so we searched high and low for a high quality natural mattress that would also provide her with a good night's sleep. We went to a local store that specialized in organic mattresses and could not find anything that felt good (they felt flimsy) and they were all so expensive. I decided to search online to see if I could find something and luckily I found the Echo Mattress.
We purchased the single sided Echo Mattress for my little girl and we absolutely LOVE it. It is super clean, no smells at all, and very comfortable. It came packaged rolled up and was super easy to bring upstairs and unroll onto her bed.
Now when I read my little girl bedtime stories I end up staying in bed with her a bit longer than I need to so I can enjoy her comfortable bed. I was actually enjoying my little girl's mattress better than my own so we decided to buy a King Size double sided version of this mattress for my own bed.
This is an incredible bed at a wonderful price and the customer service in this place is amazing too'
Overall Value and Recommendation
All the models of My Green Mattress perform well where it counts: edge support, motion isolation and comfort and feel. The Pure Echo mattress also comes with one and two sided options, customers can choose to buy either of the options. The mattresses perform very well when it comes to sex and have good responsiveness and bounce. If you are looking for an organic/natural mattress at a very competitive price from a company that has more than a decade in this particular market, then look no further. My Green Mattress offers a substantial bed backed by a solid warranty and should be high on your shopping list.
*All prices listed are before our discount
Our Overall Value and Recommendation for My Green Mattress models (Pure Echo and Natural Escape) are a respectable 4.6 out of 5
Price Table(Price Varies by Model)
Twin:
$649- $839
Twin XL:
$779- $889
Full:
$799- $959
Queen:
$949- $1149
King:
$1149- $1349
Cal King:
$1199- $1389
Overall Rating

Free Shipping
100 Night Trial Period
10 Year Warranty

Overall Rating:
Comfort and Feel

Motion Reduction

Off Gassing

Temperature

Edge Support

Materials

Trials and Warranty

Average
You May Also Like